Facebook Messenger Lite now available in over 130 countries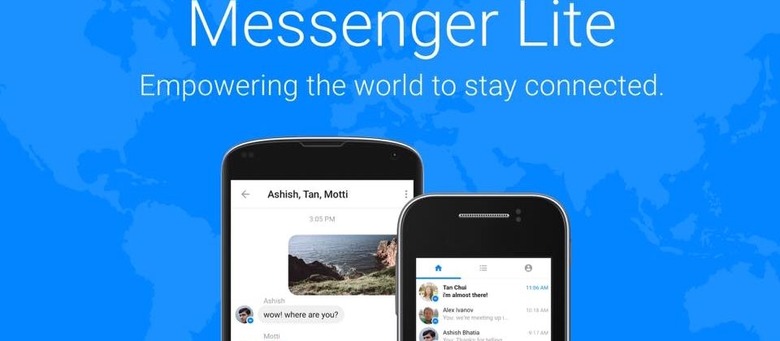 While the Facebook and Facebook Messenger apps might be common, everyday communication features on smartphones in the US, in developing countries around the world these apps can be a little resource-heavy for the less powerful devices used or in low data bandwidth conditions. To help address that situation — and continue to draw in more users — Facebook Lite and Messenger Lite have been rolling out to more regions, with the latter now available in over 130 countries.
Facebook announced the arrival of Messenger Lite in more countries as part of their goal of "making sure that everyone can have a great experience with Messenger irrespective of the age of their smartphone." Germany, Colombia, Italy, Vietnam, Algeria, Morocco, Nigeria, Peru, Turkey, Japan, Taiwan, and the Netherlands are among the countries where the app is now available.
Like Facebook Lite, Messenger Lite is an Android exclusive and is designed to work on aging or less powerful phones, such as those with low memory and limited processors. To do this, the app ditches features that need lots of data and processor resources, like Messenger Day, photo filters, and integrations with third-party apps.
The trade-off, however, is that core features like text messaging, stickers, and photo and link sharing are able to work smoothly and reliably on low-end devices and when network conditions are unstable. To put it into perspective, Messenger Lite's installation file is small and can be downloaded quickly, and the app will continue to work on 2G networks, plus it can run on versions of Android as far back as 2.3 Gingerbread.
SOURCE Facebook