Facebook Messenger Lite Aims At Android Users With Slow Connections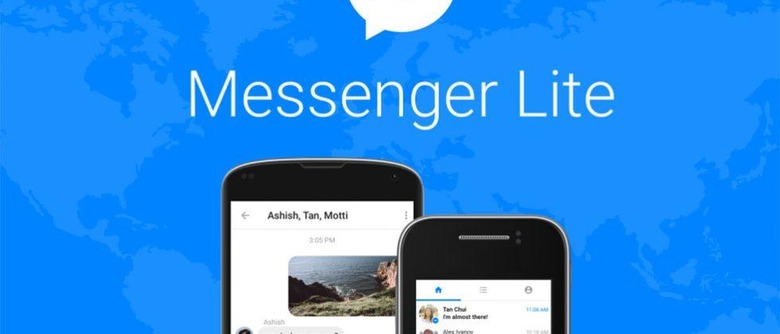 Facebook wants everyone to use its social network and to use its apps. The problem for users on Android in some countries is that their connections are slow and it makes using the full-blown version of Facebook messenger a bit tedious. To help fix that issue Facebook has announced that it has a new Messenger Lite stand-alone app that will be for Android devices.
Messenger Lite is designed specifically for markets with slower than average internet speeds and a lot of basic Android devices. Messenger Lite will allow users to sent text, photos, and links to anyone with Messenger or Messenger Lite installed on their device. The app itself is also smaller making it take less space on basic devices that have little storage to begin with.
The app is under 10MB and promises fast install and startup. It has all the core experiences that full Messenger offers such as messaging, sending and receiving photos and links, and receiving stickers. It also has the same bolt logo as Messenger, but the colors are reversed so you can tell which app you are using.
Messenger is rolling out to Kenya, Tunisia, Malaysia, Sri Lanka, and Venezuela now. Other countries will gain access to Messenger Lite in the coming months. Facebook has been testing some new features of late on the full Messenger app. That new feature is similar to Snapchat Stories and is called Messenger Day. Tiles are shown at the top of the screen for the days that your friends have had. Word is that the feature is targeted to a younger crowd with lots of color and it is really invasive.
Facebook confirmed the test saying, "We know that people come to Messenger to share everyday moments with friends and family. In Poland, we are running a small test of new ways for people to share those updates visually. We have nothing more to announce at this time."
SOURCE: Facebook