Facebook Messenger hits 1 billion user milestone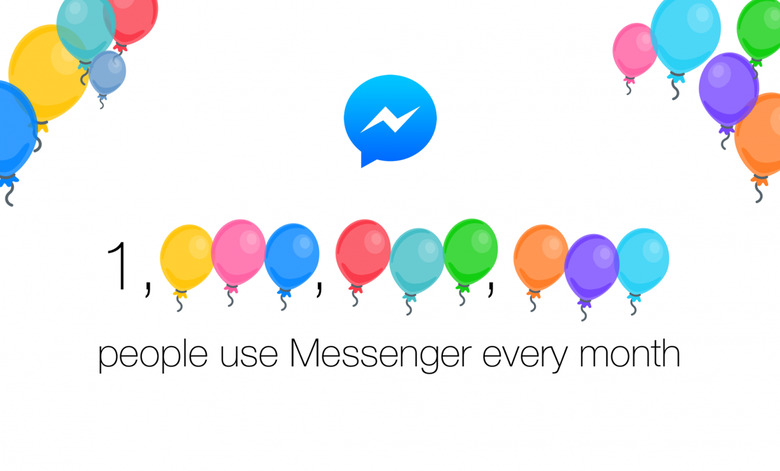 Facebook's Messenger service has hit a rather impressive milestone today, revealing that it has crossed the one billion user threshold. This means that Messenger has added another 100 million users to its ranks in just a couple of months, with the announcement that it had hit 900 million active users coming back in April. In order to celebrate its one billion user achievement, Facebook says that using the balloon emoji in open conversations will summon floating balloons, much like Messenger's Valentine's Day hearts.
"People use Messenger to connect with the people and businesses they care most about. They make plans, share dreams, send payments, tell jokes, play games, let their loved ones know they're thinking of them and much, much more," the company said in a Facebook post announcing the milestone. "We know that every message is important to you – no matter what you want to say – and we're grateful that you choose to communicate using Messenger."
Of course, one has to wonder if Messenger would have achieved 1 billion users so quickly if it hadn't forced the service on Facebook users. In April 2014, Facebook started alerting users to the fact that they would have to download Messenger to continue using Facebook's messaging feature on mobile devices, which quickly drew the ire Facebook users. Though Messenger is a decent service that works well, many Facebook users did not like the fact that they were being forced to download a separate app just to access their Facebook messages on mobile.
Indeed, Facebook users can no longer access their messages through the app itself, being prompted to install Messenger instead. For what it's worth, the few Messenger hold outs that remain can still access their messages through Facebook's mobile site. If you're still on the fence, it's worth noting that Messenger has evolved past being just a separate app for Facebook conversations since its introduction four years ago. Messenger users in the US can now send money to friends through the app, and just recently, Facebook announced its intention to add an end-to-end encryption feature to Messenger.
While end-to-end encryption is going through a testing phase with a select number of users at the moment, Facebook has revealed that the feature won't be universal once it rolls out to everyone. Instead, users will have to turn on the feature on a conversation-by-conversation basis. That's an unfortunate development, as making end-to-end encryption the default configuration for all of its now one billion users could be huge victory for privacy and security.