Facebook Messenger for Windows Phone 8 arrives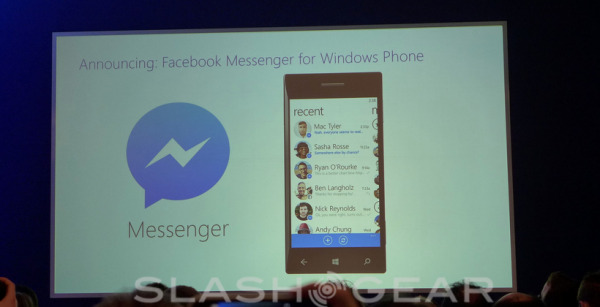 During Mobile World Congress late last month, it was announced Facebook Messenger would be arriving for Windows Phone. Fast-forward a little over a week, and that time has finally arrived, with those running Microsoft's mobile operating system being able to expand their digital social horizons.
Those running Windows Phone can grab the app from the Windows Phone Store, with the app itself measuring in at a svelte 4MB and requiring Windows Phone 8 to run. It offers the same messaging functionality that you'll find on other platforms, though it appears there's no option for sending voice messages in this iteration.
There's location sharing and stickers, and the ability to see who is online and to initiate and participate in a group chat. New contacts can be added to the app via importing. The app is available in 31 languages presently, covering the more common languages across the globe.
As promised, the interface itself is unique to — and distinctly based on — Windows Phone, and exists separately from the main Facebook app. Based MWC 2014 talks, more apps are on the way for Microsoft's mobile operating system, hopefully sooner rather than later.
SOURCE: Windows Phone Blog