Facebook Messenger coming to Windows Phone 8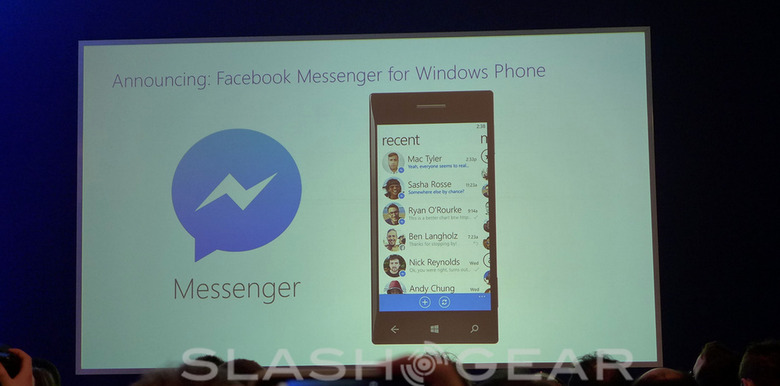 This week in Barcelona, Microsoft's Joe Belfiore suggested that the spread of Windows Phone 8 across the planet is leading in to a greater app spread. This suggestion also had to do with updates for the system itself, with Belfiore saying that because Windows Phone is growing around the world, more apps and software updates will be coming through 2014. One of these apps is Facebook Messenger.
This app will be delivered with a user interface that's unique to Windows Phone. This app will be separate from the main Facebook app, and will work independently. You'll roll with a number of features given before only to Android and iPhone, now brought to Microsoft's platform.
"Hey all year long we were making this happen *points to map* – which is a benefit to you because it'll eventually lead to more apps." – Joe Belfiore
This is just the beginning, suggests Belfiore. He did not suggest that another full Facebook app would be coming to the platform, but he did say more apps were on the way. More apps that he used today, suggesting that they're very, very close at hand. It's been suggested also that no further apps would be announced this week for Windows Phone – not by Microsoft, anyway.
Stick around as we continue to check out Microsoft and the rest of the mobile universe here this week at Mobile World Congress 2014. We'll be here all week!