Facebook M assistant helps shopping in Messenger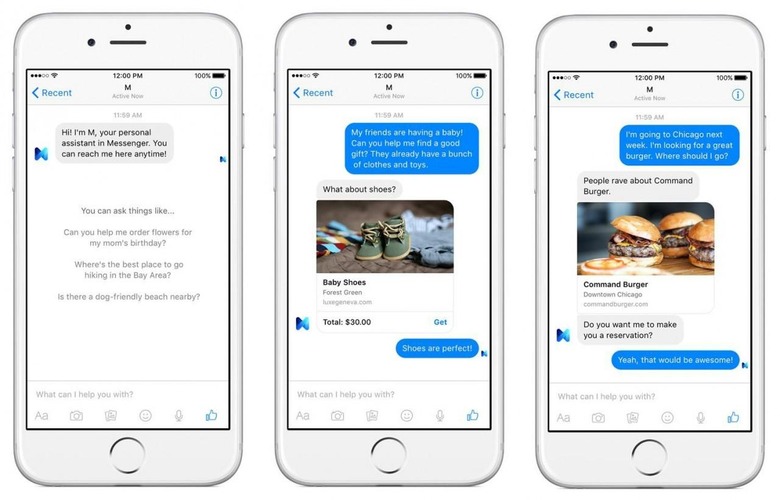 Facebook is launching its own personal digital assistant, M, with a beta of the chat-based artificial intelligence rolling out today for select Messenger users. Unlike Apple's Siri, M delivers its assistance via text discussion rather than spoken interactions; it's also more focused on shopping, with Facebook positioning it as a way to buy products, have gifts ordered and delivered, and arrange travel.
For instance, there's support for questions like "Can you help me order a gift for my friends who just had a new baby?" or "Is there a great place for sushi nearby?"
What also sets M apart, Facebook says, is that the process isn't limited to just a computer. Instead, M will be both trained and supervised by actual humans, who will presumably be making sure the suggestions made aren't tasteless or generally unsuitable.
Users will be able to order products directly from within the chat, as well as book tables at restaurants and more.
According to David Marcus, vice president of messaging products at Facebook, the "M trainers" are responsible for making sure no request goes unanswered, he told Wired. Although initially only a few hundred people will be added to the beta, all of whom will be located in the Bay Area – presumably because it will make localized suggestions easier to navigate – the goal is to roll M out to all users eventually.
In addition to promoting Messenger use, something Facebook has been trying to do for some time in the increasingly crowded IM market, the social network will eventually make money from a cut on each product or service ordered through M.
Initially, Facebook won't go digging through your interactions with friends and family to educated M's suggestions. If you ask for a gift for your daughter, for instance, M will only come up with possible items based on what you explicitly say, rather than looking at her own profile and working from those interests.
If it happens "at some point" Marcus says, it will only be enabled "with proper user consent."
What may help further distinguish M over time is the extra touches that human involvement can bring, Marcus suggests, like throwing in some surprise flowers for a birthday celebration ordered using the assistant. They'll initially be handled by the human team, but eventually the goal is to instill those abilities into the AI.
There's no word on when the beta might be enlarged, or when indeed Facebook users outside of the Bay Area might be able to try M.
SOURCE Facebook
MORE Wired