Facebook iPad App Could Star At iPhone 5 Launch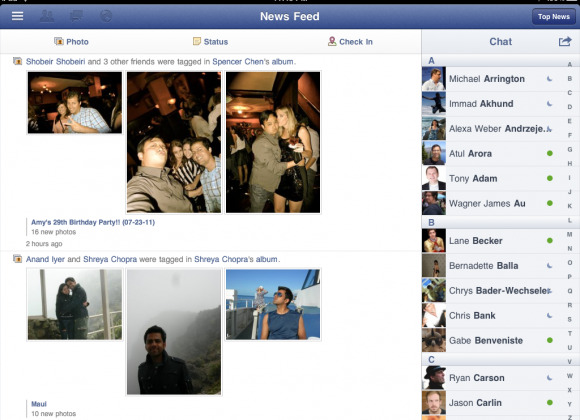 The iPad Facebook app has become the hostage of tense negotiations between Apple and the social network, reports claim, with arguments around licensing and strategy adding months of delays to the feature-complete software's release. The app – which leaked back in July - has hit headlines again after the lead developer, Jeff Verkoeyen, revealed his frustrations at Facebook constantly shifting the launch date, and how those frustrations were part of his motivation to jump ship to Google. However, there's now talk that Facebook will officially reveal the iPad app at Apple's iPhone 5 launch event, expected to take place on October 4.
Verkoeyen told TechCrunch that, while the Facebook iPad app wasn't "totally done" back in May, it was nonetheless feature-complete. According to the developer's blog, he had been working 80+ hours a week for eight months, trying to hit Facebook's perpetually moving launch target. He's now working on Google's mobile team.
"It is now nearly 5 months since the app was feature complete and it still has not been released in any form, except when the project was leaked on Techcrunch. Needless to say this was an incredibly frustrating experience for me. The entire experience of working on this app was a large contribution to the reasons why I left Facebook" Jeff Verkoeyen
The sticking point was not the app, it seems, but Facebook in effect using it as a bargaining chip in its negotiations with Apple. Still stinging from the heavy Twitter integration in iOS 5, rather than using Facebook, the social network knew Apple was desperate for an iPad-specific app to presumably follow in the success of the iPhone Facebook app.
According to Mashable, though, the end might be in sight. The ongoing frustrations between the two companies have been put aside, their tipsters claim, with the shared goal of challenging Google. Apple lacks a social network and Facebook lacks a mobile platform, it's pointed out, whereas Google now has both with Android and Google+: the two firms need each other, and collaboration on Project Spartan, an ambitious HTML5 software platform, has only helped strengthen that connection.