Facebook introduces Nearby for iOS and Android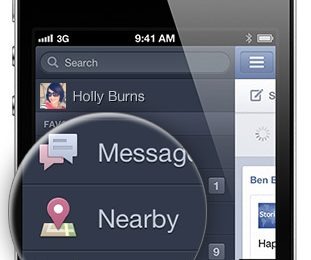 Facebook has been hitting the mobile scene hard lately, and today it's rolling out even more updates for its mobile apps. The company has introduced a new feature called Nearby, which aims to turn you onto local places your friends already love. Of course, we've seen Facebook dabble in Foursquare-like features before, but today's release makes it an even bigger competitor in the space.
Starting today, iOS and Android users should be seeing a new Nearby tab in Facebook's app menu. By tapping on the Nearby tab, you can find places that your friends have liked and checked in at, thus allowing you to potentially discover places in your area that you've never been to before. There are also a number of categories these places are divided into, like restaurants.
Of course, this isn't a one-way street, and you'll be able to recommend locations for your friends to check out as well. It's an interesting little feature, and it should come in particularly handy when you find yourself bored on a Friday evening. The update is rolling out to iOS and Android at some point today, so if it isn't immediately available, it should be shortly.
This is just the latest in a long line of features Facebook has launched for its various mobile apps. A huge part of Facebook's plan moving forward is to better monetize mobile visits, so we're seeing that plan in action with all of these releases. Check out our story timeline below for more on Facebook!
[via Facebook Newsroom]