Facebook Instant Games are about to get some big changes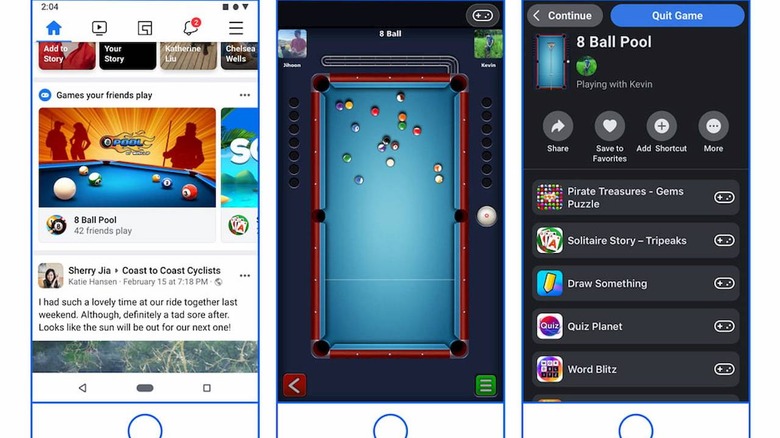 Back in 2016, Facebook rolled out an initiative called "Instant Games," which found some success when they were integrated within Messenger. These games allowed you start matches with other people and compete for high scores in your group chats, and some of them were actually pretty good. In its quest to make Messenger more lightweight, though, Instant Games are about to move house, and those who enjoy playing them are probably going to encounter some frustration as that happens.
Earlier this year, Facebook announced its new Gaming Tab, which aims to make it easier to find and play games on the platorm, and today's announcement goes hand-in-hand with that one. Facebook has revealed that it will soon be moving Messenger's Instant Games to the Gaming Tab. This reveal doesn't really come as much of a shock, as Facebook has said in the past that it's looking to make Messenger less cluttered in general.
"Our migration of gameplay sessions will happen over several stages," Facebook wrote today. "Starting later this summer, Instant Games will no longer be playable directly in the new version of Messenger on iOS. To ensure a smooth transition, players in Messenger will continue to access games through thread updates and chat bots, while gameplay itself will app switch to Facebook."
Attempting to start games in Messenger only to have them open in the Facebook app doesn't sound very elegant and Facebook seems to know this, so during this transition, it says that it will garner feedback from the community. It'll also attempt to maintain game health by keeping players in the loop with step-by-step instructions on how to access games, but whether or not that will prevent a player drop off remains to be seen.
In addition to all of this, Facebook says that it will launch a new application and review process for Instant Games developers, so it sounds like Facebook is trying to turn the Gaming Tab into a more legitimate way to play games. We'll keep an eye out for more news on this front, but if you enjoy playing Instant Games through Messenger, just know those days are numbered.