Facebook gets Star Wars temporary lightsaber pics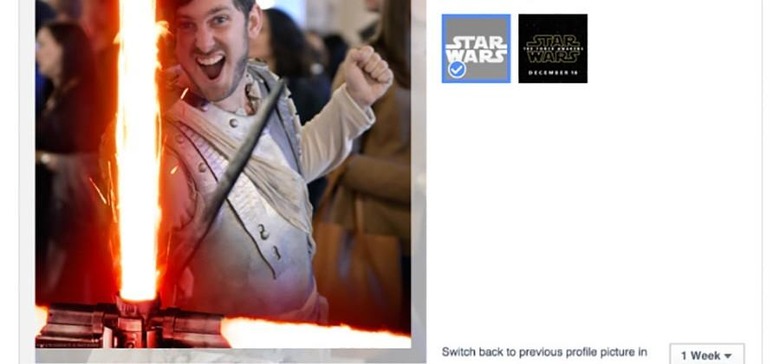 Star Wars fans who want to celebrate their geeky side this week during the build up to the launch of the latest film in the franchise will want to hear about the new profile pic possibility for their Facebook profiles. Facebook users can get temporary Star Wars profile pics that overlay a lightsaber in front of their profile pics.
Fans can choose from the red Kylo Ren Dark Side lightsaber with the jagged looking blade and crossguard. Another option is the sleeker blue lightsaber used by the Jedi in the flick. If you like the way the profile pic looks users can send it live and set a date for the temporary pic to be removed.
To Star Wars your profile pic, all you have to do is go to the Star Wars Facebook Page timeline and customize your profile pic. This is the same tool that Facebook has been using lately to allow people to do other things like overlay flags and such over profile pics.
Facebook is only the latest tech firm to embrace something Star Wars. Verizon has been handing out Star Wars themed Google Cardboard VR devices. Star Wars: The Force Awakens hits theaters this week and is expected to be huge.
SOURCE: Facebook, TechCrunch