Facebook bug celebrates 46 years of friendship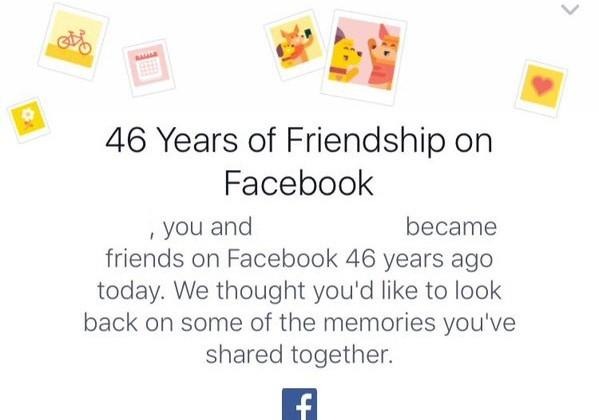 A Facebook bug is seriously overestimating some friendships today, with some users being congratulated on their 46 year anniversary. The social network has long celebrated the day on which users first friended each other, but a glitch in the system is leading some to see messages suggesting that happened 35 years earlier than Facebook itself first coming online.
Facebook is busy working on the problem, with a spokesperson offering a tongue-in-cheek confirmation that something has, indeed, gone wrong.
"We've identified this bug and the team's fixing it now so everyone can ring in 2016 feeling young again," the Facebook rep said.
An explanation for the issue hasn't been given, but speculation lays responsibility at the feet of the so-called Unix Epoch. Microsoft engineer Mark Davis spelled out the perfect storm by which an overlooked line of code in the "friends with since" record on Facebook might have caused the odd count:
A developer friend of mine explains why Facebook is saying you've been friends with people for 46 years pic.twitter.com/iUScyG7GxT

— Greg Otto (@gregotto) December 31, 2015
It's not been Facebook's day for service stability. WhatsApp, the instant messaging service it acquired for billions in 2014, has been experiencing partial outages today, sending some New Year's Eve plans into disarray.
VIA WSJ