Facebook boosts birthday celebrations with next-day recap video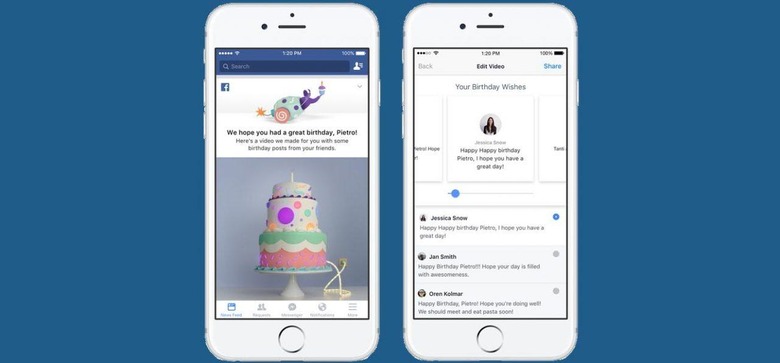 Facebook doesn't make it easy to avoid having your birthday broadcast to all your friends; in fact, it has taken steps to boost birthday celebrations on the social network, including things like launching the Facebook Birthday Cam earlier this year. If you love the digital celebrations, then good news: Facebook has launched a new cheesy birthday recap video that takes at least three of your birthday well wishes and mashes them up into a cake-filled celebratory video.
The video features a big pastel cake with a single candle and a personalized greeting. There's confetti and fun music and little frosting doors opening up to reveal birthday statuses others tagged you in or left on your wall. You need to get at least three such tags/posts for the recap video to be generated, though. The recap video is posted for your own viewing the day after your birthday.
It isn't clear how many statuses get showcased in the video (some people get dozens or hundreds and it would take forever to go through them all, of course), and whether the video includes intelligently picked ones. It'll be hard to get excited over a video that showcases a bunch of bland "happy bday" statuses that took two seconds to write.
If you don't like Facebook birthday announcements and would rather not be obligated to like or respond to a bunch of them, you can exercise a touch of modern rebellion and remove your birthday. Figuring out how to do so isn't easy, though — Facebook seems to have made that option purposely difficult to find — so here's the fruits of my own sleuthing: head into your own "About" section, choose to edit it, then navigate to the part with your birthday and hide it.
VIA: TechCrunch