Facebook just made it much easier to control which apps get your data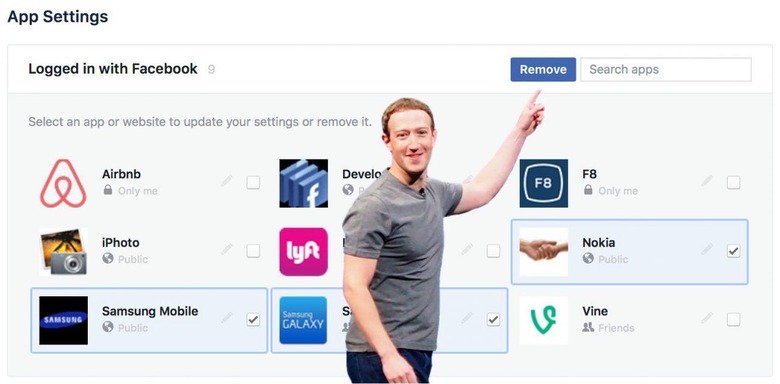 Facebook has made it easier to manage just which third-party apps have access to your data, with a small tweak potentially making it far more likely that users will take control over their privacy. The social network has found itself in the spotlight in recent weeks – not to mention the subject of an FTC investigation – over claims that it hasn't done enough to safeguard personal information about its users.
Although whether Facebook's stance on privacy has been a long-standing argument, the topic erupted in March after revelations about researchers passing user data to private voter influencing firm, Cambridge Analytics. The company was handed a 5m-strong database of Facebook user information, having acquired it through since-tightened app APIs. Those APIs allowed apps to collect information not only on direct users of the apps, but the friends of those users too.
Facebook amended the API policies a number of years ago, but still faces criticism that it does more to encourage rampant sharing than it does promoting privacy. One of the key areas that has been regularly highlighted on that front is the often perplexing settings that control the data third-party apps have access to. Now, Facebook has made a simple tweak to that process, but one which could have a vast impact.
Facebook has always offered a list of third-party apps and websites that users have logged into with their credentials from the social network. Until now, however, if you've wanted to manage that list, you've needed to delete offending entries one by one. With some users having literally hundreds or thousands to go through, however, many are put off my how time-consuming the process is.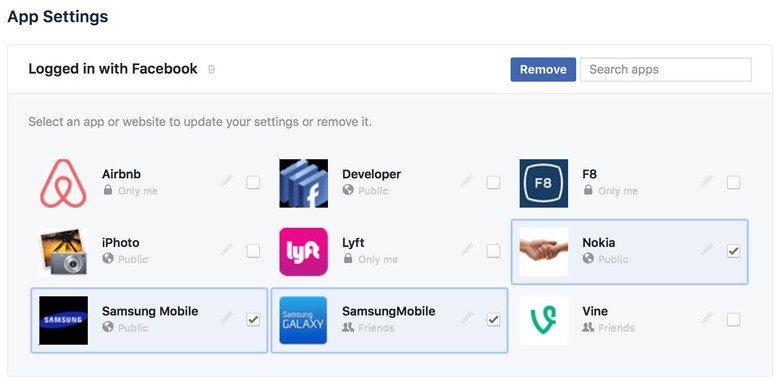 Now, you can select multiple apps and remove them all in one fell swoop. While it's possible to individually change the settings of a single entry – controlling whether it can see your email address, can send you notifications, and whether other Facebook users can see you're a user of that specific app – you can now delete en-mass.
The tweak comes shortly after Facebook updated its privacy settings, something the company said it had been working on before this latest controversy. The new system replaces around 20 screens with a single page and some straightforward options, in addition to clearer explanations as to what, exactly, each of the settings controls.
Facebook needs all the goodwill it can gather right now. The Federal Trade Commission has announced it is investigating whether the social network contravened the terms of its settlement in 2012, a move that could open the company up to huge fines if the regulator decides against the site. Facebook has said it welcomes "the opportunity to answer questions the FTC may have."
[Thanks Toby!]