Facebook App Center hits iOS and Android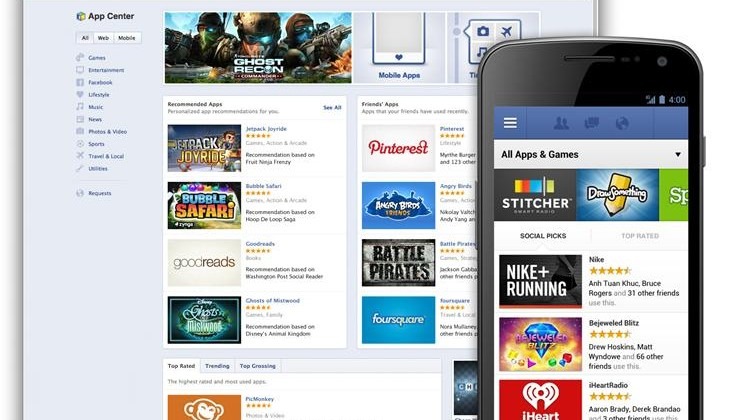 Facebook App Center has launched in the US, bringing mobile users access to native and web-based apps wrapped up in a social layer. Available for iPhone, Android, Facebook app users and those accessing the site from their mobile browser, the Facebook App Center mixes together both browser apps, which don't require installation, and native apps that are automatically downloaded from the App Store or Play Market. The common theme among all 600 or so on offer at launch is Facebook integration.
Facebook is promising an highly individual experience for each user, with the app usage of themselves and their friends used to educate which titles are recommended. The social site is also being reasonably discriminatory as to what it allows in through the door in the first place, and will use user-ratings and engagement to bury any titles that don't meet with Facebook members' approval.
Apps can also be browsed from the desktop, with a "Send to Mobile" button automatically triggering your phone to grab the app you're looking at. As with previous browser-based apps, each title is listed with its privacy settings – including what it can access from your account, and which of your friends will be able to see your activity – clearly set out.
Draw Something, Pinterest, and Nike+ GPS are among the apps in the first wave, along with new titles including Jetpack Joyride, Ghosts of Mistwood, and Ghost Recon Commander. Facebook says a roll-out for all users should take place within the coming weeks.