Facebook and Universal just cut a huge music licensing deal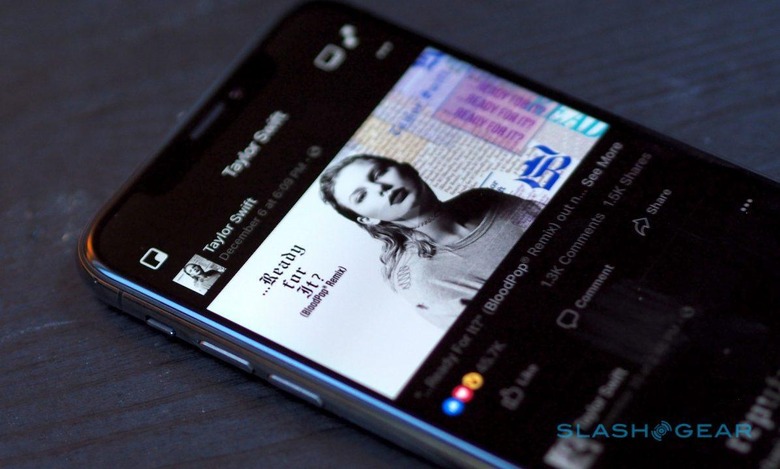 Facebook and Universal Music Group have inked a deal that will see the label's music licensed across Facebook, Instagram, and Oculus. The deal, announced today, will mean that users of the services will be able to upload videos containing licensed music that once would've seen their clips deleted for copyright infringement. In the pipeline, it also paves the way for a potential Facebook Music service, which could rival Spotify and Apple Music for on-demand streaming playback.
Before anything like that, though, there'll be support for sharing music and music videos with other social network users. Facebook says that in the pipeline there are plans to open up "a vast library of music" across multiple social features, though isn't saying exactly what that will entail.
However it's clear that both Facebook and UMG are hoping to turn music into more of a "social experience" if they can. On Facebook and Instagram, that might involve new groups built around specific artists or genres, which will now be able to legally share videos – just as long as they're from UMG's catalog.
On Oculus, meanwhile, it gets potentially even more interesting. There's been some experimentation with music-based VR and AR experiences in recent years, certainly, but the complexities of label negotiations mean it's out of the realm of possibility for most virtual reality developers. Nonetheless, with companies like Magic Leap partnering with Sigor Rós on audio/visual experiences, it's clear that the upcoming mixed-reality revolution is ripe for giving music a new dimension.
For artists, it will presumably mean more flexibility in how they engage with fans, along with new ways to commercialize that. As the rise in streaming has demonstrated, making money in the post-physical-media age can be tough, with concerts usually expected to offset the shortfall in content sales. Being able to add a digital music experience – akin, maybe, to a virtual concert that could be enjoyed on a smartphone or a VR headset like Oculus Rift – might represent a valuable new revenue stream.
It's not the first such push for UMG, mind. Earlier this week, the company cut a deal with YouTube on a global partnership that's expected to better monetize users of the streaming video site. UMG represents artists including Taylor Swift, Kanye West, and Lady Gaga.
Neither Facebook nor UMG are saying how much today's deal is worth, only describing it as a "global, multi-year agreement." "Going forward, the companies will experiment hand-in-hand to introduce new music-based products to these Facebook platforms," the two companies say, "including Messenger, with the goal of catalyzing innovation to develop the next generation of music products that best engage social consumers."