Facebook and Twitter get iOS 7 app refresh

Facebook and Twitter have released new apps for iOS 7, borrowing the iPhone and iPad software's flatter UI style, among other features. The new Facebook for iOS tweaks the navigation, putting new News Feed, Messages, Notifications, and other shortcuts along the bottom of the News Feed display, in addition to adding gestures for those using the app on iOS 7.
For instance, there's a translucent bar at the top of the app, which Facebook says changes "dynamically" depending on what you're currently scrolling through. There's also the ability to swipe left and right when you're reading a particular news update or story, to jump between the News Feed.
Facebook for iOS 7 demo:
As for Twitter, it too borrows the flattened iOS 7 aesthetic (though still works with iOS 5 and iOS 6) but also pipes tweet information into various iPhone and iPad apps. For instance, trending music shows up in the iTunes Radio Twitter music station, while the Shared Links pane in Safari for iOS 7 collates all the URLs that have been tweeted from the users you follow on the 140 character messaging service.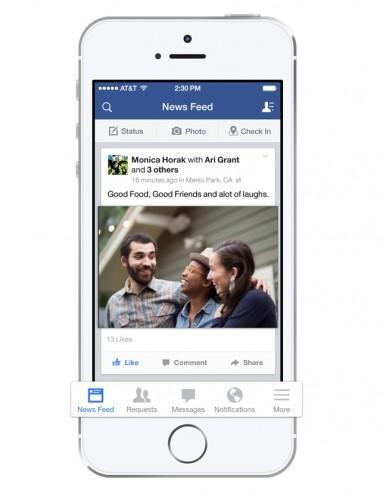 There's also Siri integration, with the virtual personal assistant able to search through tweets, and you can ask questions like "What is SlashGear saying" and see a list of recent tweets. Twitter for iOS 7 is also available in an iPad version.
For more on iOS 7, our full review walks through all the key features – and some of the hidden gems. It's available to download now for existing iPhone, iPad, and iPod touch owners, though Apple's servers are struggling to keep up with demand.