Facebook adds face recognition opt-out: Here's how to disable it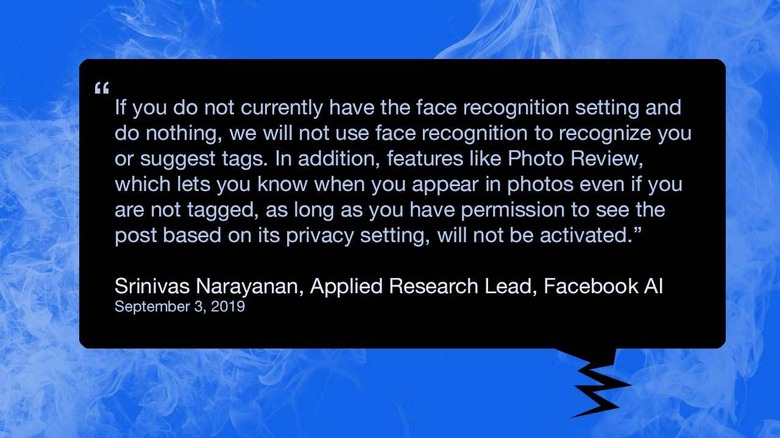 Today Facebook released an off switch for facial recognition in their social media system. Today, a Facebook representative by the name of Srinivas Narayanan, Applied Research Lead, Facebook AI said that Facebook has "only used face recognition technology to automatically suggest tags for your friends in photos."
According to the text shared by Narayanan, In December of 2017, they suggest, they added "a new setting for some people called face recognition." We covered this in a December 2017 article called Facebook face recognition finds you in untagged photos: How to turn it off.
This was not the first time Facebook ever utilized face recognition software. In June of the year 2011, we were already saying things like "Facebook has had a facial recognition system for awhile now."
Facebook previously called their facial recognition and tag-suggestion system "tag suggestions." In 2017 they started to call it "face recognition" and added the ability to manage "whether Facebook uses face recognition technology on photos of you in order suggest tags." It also provided "an easy on or off switch for a broader set of uses of face recognition, such as helping you protect your identity on Facebook."
How do I turn off Facebook Face Recognition?
As you'll see in the image above, Facebook's Narayanan suggests that their Face Recognition will not turn on automatically if a user hasn't already been using the feature. Users that've not had this Face Recognition feature in the past will get a notification of activation of the feature this week – or very soon.
If a user previously activated Face Recognition, they will NOT get a notification of any sort. If you wish to turn Face Recognition OFF, you'll have two potential pathways.
On Desktop in a web browser: Click the triangle in the upper right, a list should appear – on that list, click Settings. In Settings, you'll see a list of links on the left – one should be Face Recognition. Click Face Recognition, and on the right (in Face Recognition Settings), tap "Edit". Switch to NO, then click CLOSE.
In the app, tap the stack of three bars in the upper right-hand corner, scroll through the list and tap Settings. In Settings, scroll down to Privacy, under which you'll find Face Recognition. Tap into Face Recognition and tap "Do you want Facebook to recognize you in photos and videos?" and choose yes or no, then press the back arrow.
Above you'll see step-by-step guides for these two platforms. If you're having trouble with a step, let me (@design_junkies) or us (@slashgear) know on Twitter and we'll see what we can do!