Facebook 5.0 hits iPhone and iPad

In a relatively giant update for the Facebook app for all Apple iOS devices, the development team behind the mobile version of the social network have emphasized one thing above all else: speed. This update has the app rebuilt from the ground up, with those responsible for making sure the app is top-notch assuring users that this is indeed the best way to view the Facebook universe from your Apple device. This update also has a brand new banner to tap right in your most-viewed page for refresh of stories – news feed forever!
Facebook's mobile representation has not yet been updated with these changes for Android or Windows Phone, but given the update schedule the developers have followed behind the scenes thus far, they're probably not far off. This update also has users now able to get instant access to notifications – a slight upgrade if you're otherwise less than impressed with the bit of lag otherwise in place.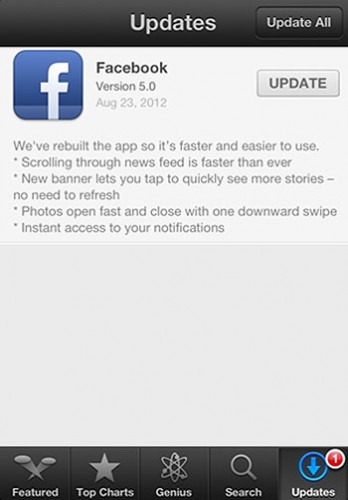 Photos now open faster than ever and there's a new gesture in play as well. Once you do open a photo in a gallery, you've only to swipe downward to make it minimize once more. Scrolling through your news feed has been made faster by a significant factor, and the whole application is just a bit swifter at loading media of all kinds.

Facebook is available for download or update – depending on your Facebook situation, of course – right this minute. This update came down for iOS just today, August 23, and should be available around the world throughout the day.
[via iTunes]