Fabrik [re]drive claims most eco-cred for USB hard-drives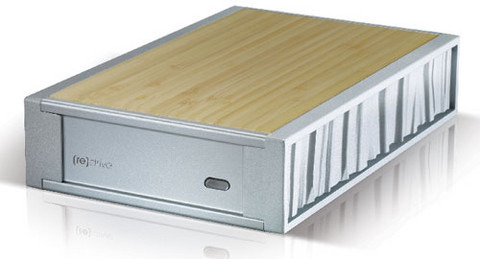 External hard-drive manufacturer Fabrik have announced what they're calling "the world's most energy-efficient, resource-conscious, Turbo USB 2.0 external storage and backup drive", the SimpleTech [re]drive.  Basically a 500GB USB 2.0 hard-drive, Fabrik have used bamboo and recycled aluminum for the enclosure and coupled it with an EnergyStar compliant power adaptor.
The packaging has eco-credentials too, presumably by using recycled cardboard and avoiding unnecessary bulk.  Fabrik seem to be basing their calculations on the assumption that a "traditional" 7,200rpm 500GB external drive will be left running 24/7 at 200 watts/day (10-percent of the time being accessed, the rest of the time idle), compared to the [re]drive running 24hrs a day but for five days a week, at 19 watts/day (with the same use/idle ratio) in a system that sleeps or is turned off.  That doesn't seem entirely fair to me (unless I'm seriously misunderstanding things).
Priced at $159.99, the 500GB [re]drive will include backup software together with 2GB of online storage space.  For just under $5 a month that can be increased to unlimited storage.  The drive is available now.