Fabric Keyboard gets thumbs-up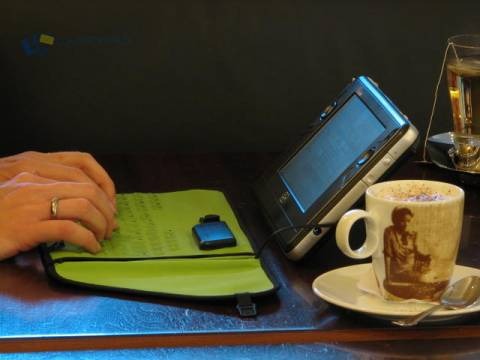 There's something undeniably cool about alternative keyboards.  Even if they don't work well (I'm looking at you, hateful-finger-feedback laser keyboard!) it's still good to see that manufacturers aren't resting on their laurels.  So how about a fabric keyboard that can be made into a carrying case?  That's what Steve over at The Carrypad UMPC Journal has got his touch-typing fingers on: a prototype by 'smart fabric' manufacturer Eleksen.
Consisting of a network of sensors and wires sewn into a neoprene wallet-case, Steve has been trying out the Eleksen keyboard with – unsurprisingly – his UMPC.  Initial feedback is good, with typing speeds of 55% his normal rate (which he claims works out as twice as fast as tapping on the on-screen keyboard), a very light weight of 89g and reasonable key feel (once you get used to the lack of travel).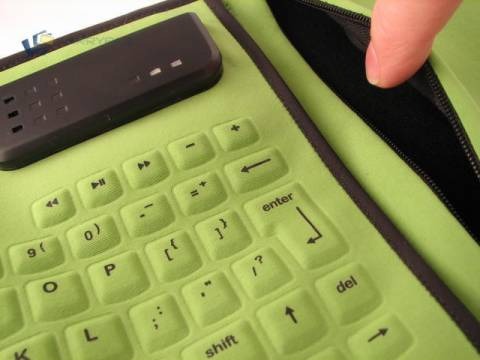 Sadly it isn't for sale; Eleksen are waiting for someone to either license the technology or place a big manufacturing order, neither of which has proved forthcoming so far.  But with practically endless possibilities in terms of layout, material and size, there's sure to be a taker soon.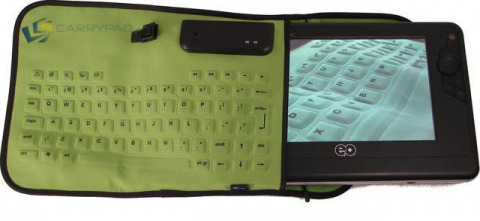 Eleksen 'Smart-Fabric' keyboard feels good [The Carrypad UMPC Journal]