Eyefi Cloud gets loose as WiFi card need cut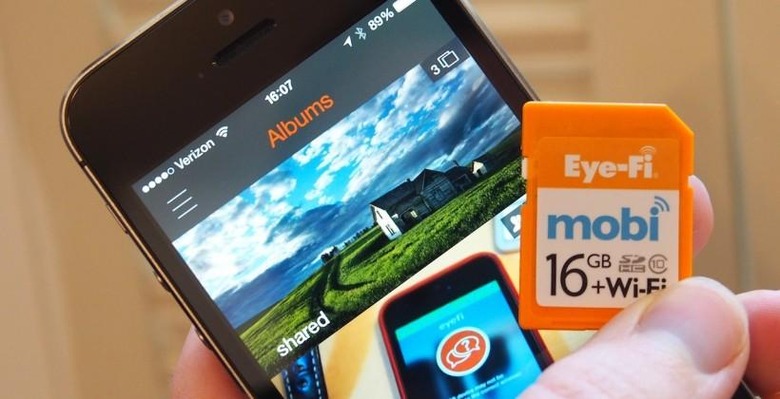 Back in April, online gallery and photo sharing service Eyefi launched Eyefi Cloud, pairing cross-platform synchronization with its WiFi-enabled memory cards for digital cameras; now, that cloud is getting set loose. Eyefi Cloud is now available for those without one of the company's Mobi WiFi SD cards, so that any smartphone or tablet, or a camera that already comes with WiFi baked in, will be able to upload their shots online to a chunk of library storage, as well as get easy access to that storage from multiple devices.
While cloud storage providers aren't exactly scarce these days, what helps set Eyefi Cloud apart is the focus it places on photography. Rather than acting as a single repository for all your files, it uses simple galleries and tagging, straightforward sharing, and solid offline support.
If you don't have a connection, any changes you make locally are cached and automatically uploaded when you're next online. All photos synchronize to a unified gallery, and you can link multiple devices to the same account.
New to this release are EXIF visualization, which will shows things like f-stop, exposure, camera and lens details, flash status, shutter speed, ISO, and other factors.
There's also support for quick edits, with the ability to crop and rotate shots in the browser interface, and then have those changes synchronized across all connected platforms. Soon, Eyefi's VP of Product Marketing Sam Hui tells me, there'll be support for keeping a copy of the original file and creating a second with any edits; right now, whether that happens is on a platform-by-platform basis.
For the desktop, meanwhile, there's a simple sync tool to download the entire library, whether that's to make an archive or load certain shots into Photoshop or similar.
As for why Eyefi decided to remove its reliance on WiFi memory cards – which the company will still offer, just not require – Hui says it's natural step as people use different types of camera. Most people, Hui claims, own around three capture devices, whether they're standalone cameras, smartphones, tablets, or something else: not everything suits a WiFi SD card.
Meanwhile, WiFi-enabled cameras are on the rise – sales apparently increased 61-percent in the first half of the year – and smartphone cameras are improving in quality.
Eyefi Cloud launches on November 24th, and there's a 30 day free trial initially. After that, it's $49.99 per year for unlimited synchronization.
MORE Eyefi Cloud