EyeEm: the best Instagram alternative you've never heard of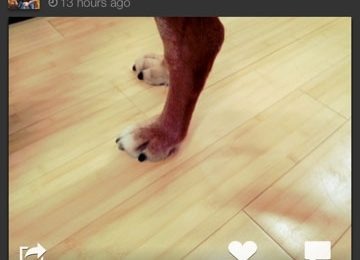 In the shockwave that is the Facebook-added Terms of Use for Instagram here as 2012 ends and 2013 begins comes the resurgence of the app called EyeEm – a photo snapping, filtering, and sharing app that you've likely never heard of before today. Though EyeEm has been around for many moons now – over a year on some platforms – it's just this month seeing one whole heck of a lot of renewed interest as a massive exodus from Instagram occurs: and as EyeEm is already established not only on the web, iPhone, and Android, but on Windows Phone 8 as well, it's high time this ecosystem got some traffic.
The EyeEm app is easily the best Windows Phone 8 alternative to Instagram for more reason than one. The first reason – and the most important – is that Instagram does not exist on Windows Phone 8 in the first place. There's been talk of a possible app in the future, but Instagram has made it clear on more than one occasion that they're not investing their own resources into making an app for Windows Phone 8 (not yet, at least). The second reason is that this app's features fit perfectly inside the Windows Phone 8 (and Windows Phone 7.5, mind you), aesthetic – images flying all over the place and screens and screens full of filtered photos look great on the platform.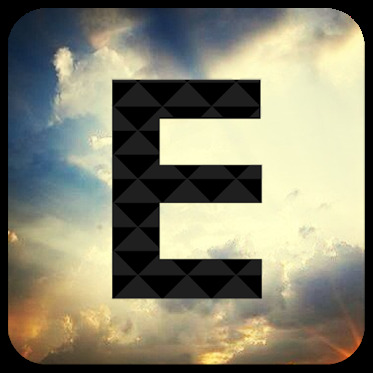 After using the Windows Phone 8 version of the app for a few minutes, it became clear that we had to see how the app worked on the rest of the mobile universe. As it turns out, there's more features for this app on iPhone and Android than there are on Windows Phone. While the Windows Phone 8 version is perfectly legitimate and worth the free download without a doubt, it's even more exciting to see the app developing on Android and iOS.
The newest update to EyeEm occurred on the 19th of October, 2012 – that's just earlier this week. This update brings the app up to version 3.0 and adds items such as Favorite Albums for photos you love the best, Invitations for friends to hook in to your friends via email as well as Facebook, and a collection of bug fixes (of course). In the end though, this is the same app as the Windows Phone 8 version – filters, sharing, tagging and all.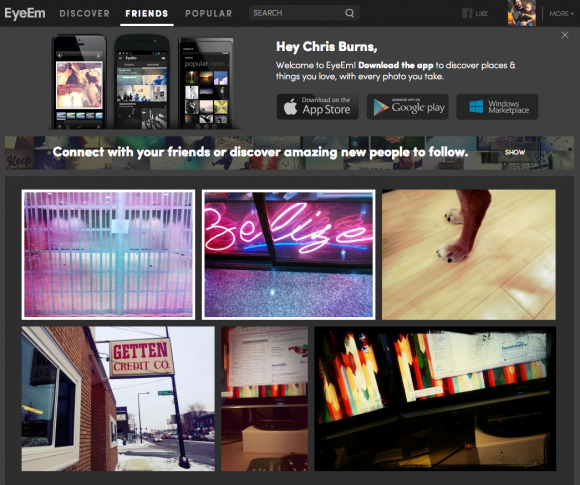 EyeEm has a burgeoning community both within the app and on the web – you can log in with your EyeEm account (with or without Facebook, mind you) and comment on photos in any web browser, connect to tags and locations, and edit your profile as well. You've got your own profile, mind you, and your connections to other EyeEm users exist both in the app and on the web.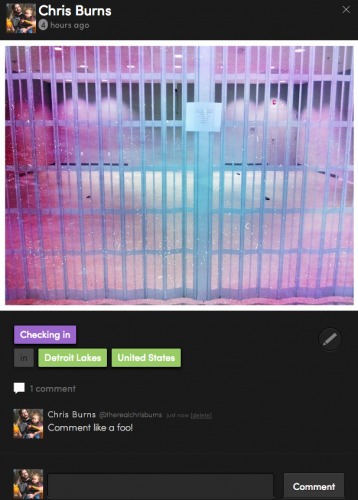 In other words – this ecosystem is much more developed than Instagram ever has been – and if Facebook continues down the path it's on now, EyeEm will continue to be be more of a fully-immersive ecosystem and social network unto itself than Instagram ever will be.
Then there's the real kicker – Instagram's privacy blunder here at the tail end of 2012 has opened the doors wide open for similar apps and ecosystems, with EyeEm right at the ready. They've got a message right up at the top of their Privacy Policy that says the following:
At EyeEm we respect & protect your image rights.

By using our service you'll always remain the copyright holder of your images, your information is safe with us and we won't do anything with your photos or data without asking for your permission.

Please read the following policy carefully, if you aren't a lawyer we've included some notes to help you make sense of it.
The most important note they make is this – simple, plain, and clear: "We do not sell your information to anyone. However, please be aware that EyeEm is an open website and anyone can see what you're posting."
Have a peek at EyeEm today on the web, on the Windows Marketplace for your Windows Phone 8 device, on the Google Play app store, and on the iTunes App Store for your iPhone. Let us know how you like it!