Eye-Fi Pro X2 Review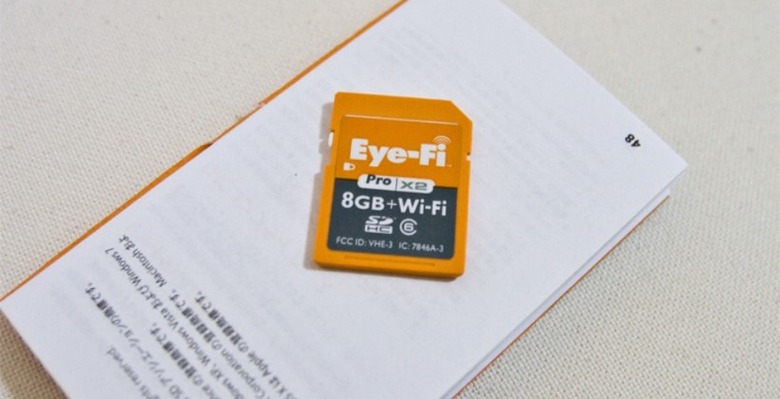 Eye-Fi have managed to do – if not the impossible – then then unlikely: make camera storage fun. The new Eye-Fi Pro X2 is an 8GB SDHC memory card that promises to wirelessly transfer your photos and video to your home or work computer without demanding you mess with cables and card readers. It'll also upload shots automatically to Facebook, Flickr and other online galleries, together with geotagging them, and it'll do it faster too thanks to WiFi 802.11n and a new chipset. Still, is it worth $149.99? Check out the full SlashGear review after the cut.
The Eye-Fi concept is simple: instead of just fitting flash memory into an SDHC card, squeeze a WiFi radio in there too, and allow the card to connect to wireless networks and instantly offload whatever photos and video you shoot. The first-gen models had a relatively small quantity of storage and WiFi b/g support; this third-gen Eye-Fi Pro X2 packs 8GB and 2.4GHz WiFi b/g/n for faster transfers. The X2 line is also the first from the company to use their new chipset, which they reckon also improves performance especially with RAW images. The Pro X2 is a class 6 card, and there are various geotagging, ad-hoc, hotspot and other options too.
Before you can use the wireless functionality, the Eye-Fi Pro X2 has to be configured to recognize whichever WiFi networks you'll want to use. That's a case of plugging the SDHC card into the included USB reader and installing the company's latest Eye-Fi Manager, an app built on Adobe Air. As well as setting up networks (which can either be discovered locally, as with regular WiFi connections, or inputted manually by SSID and password should the network itself not be within range) the Manager app also allows you to set exactly what happens to images when they're transferred.
There's a surprising amount of flexibility here, too. You can have multiple destination computers, with video, RAW and JPEG images funnelled into different folders, as well as choose from multiple online gallery sites like Flickr and Photobucket. Finally there's the option to upload direct to an FTP site, assuming you have the credentials. Eye-Fi Manager works both as a setup system and as a photo sharing app: you can browse and control multiple Eye-Fi cards through the one interface, as well as drag in photos from elsewhere to be uploaded to the same galleries.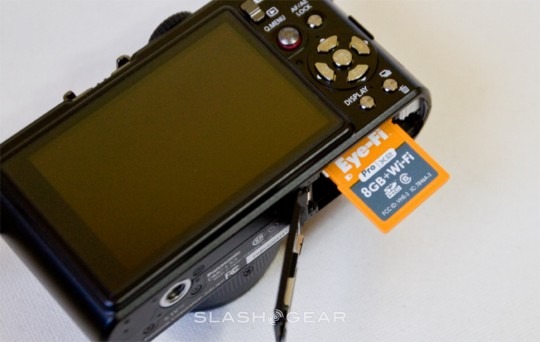 Ad-hoc connectivity sounds like it should bypass the initial WiFi network setup, but actually it's a way of directly connecting the Eye-Fi Pro X2 to your computer without a wireless router in-between. That could come in useful if you're working away from your home or office network. We wish Eye-Fi Manager made it slightly more straightforward, though; you have to set up the host network on your laptop manually, then go through registering the new network with the SDHC card in the usual way. We had better results using a MiFi portable wireless router as intermediary.
The boost in potential WiFi speed – from b/g to b/g/n – might make a noticeable difference for direct transfers, but we didn't see a huge change over earlier Eye-Fi cards. Still, it should help out with larger file sizes produced by high resolution DSLRs. Of course, the transfers will only be as fast as the slowest leg of your network, so you'll need an 802.11n-capable router and computer to see the benefit. If the Eye-Fi card and your computer are on the same wireless network then the transfer is all made locally, but if they're transferring remotely then you also need to take into account connection upload/download speeds, which will be significantly less than what the 802.11n radio is capable of.
More effective is Endless Memory, another new feature to the X2 line and one which promises to bypass concerns over running out of card storage at any point. Endless Memory optionally deletes old photos and video – once its been verified that they've been offloaded from the card's memory – so that there'll always be space for more content. You can choose the threshold at which point photos or video (starting with the oldest) is deleted, based on a percentage of remaining storage space, and it certainly works. Eye-Fi say Endless Memory verifies the safe transfer of media before it deletes, though we're not entirely sure how this is done; it's also worth noting that if you've got your card to upload directly to an online gallery, and in the process that gallery – like, say, Facebook – permanently re-sizes the shot, if Endless Memory deletes the original you'll only ever have that re-sized version.
Geotagging, meanwhile, uses Skyhook Wireless' WiFi hotspot triangulation system to add location data to your photo's EXIF header, meaning that if you later view them in a location-aware app – such as iPhoto or Google Picasa – you can group images by the place at which they were taken. Since it's not true GPS the limitation is Skyhook's database: they quote 70-percent of the US/Canadian population, together with "70-percent of the populated areas in Germany, France and the UK." There are also pockets of coverage in Asia, but it's certainly not ubiquitous.
Speaking of WiFi hotspots, the Eye-Fi Pro X2 comes with a year's worth of automatic access to AT&T's hotspots in the US; the card will automatically connect and pick up uploading where it left off. It's also possible to register other WiFi hotspot accounts that you may subscribe to, for instance Boingo, which promises the same seamless connectivity.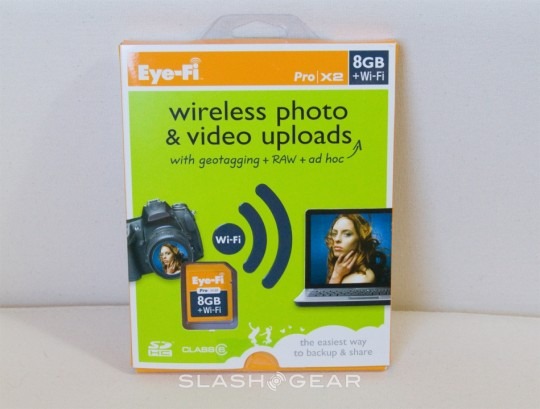 There's undoubtedly plenty to like about taking a photo and seeing it almost instantly pop up on your computer, and it's still hard to believe that Eye-Fi can fit all the necessary hardware into something the size of a memory card. At $149.99, the Eye-Fi Pro X2 isn't cheap, but if you're unlikely to need RAW image support – like, we'd imagine, most home users – then the Eye-Fi Explore X2 (at $99.99) supports everything the Pro does, bar RAW images and Ad-Hoc transfers. Even cheaper are the Connect X2 and Geo X2, at $49.99 and $69.99 respectively, each having 4GB of storage but lacking hotspot support and, for the very cheapest card, geotagging support. Most people would be satisfied with the Explore X2, but overall this latest generation of Eye-Fi card certainly impresses.