ExpressCard 2.0 finalized: 5Gbps for 10x faster cards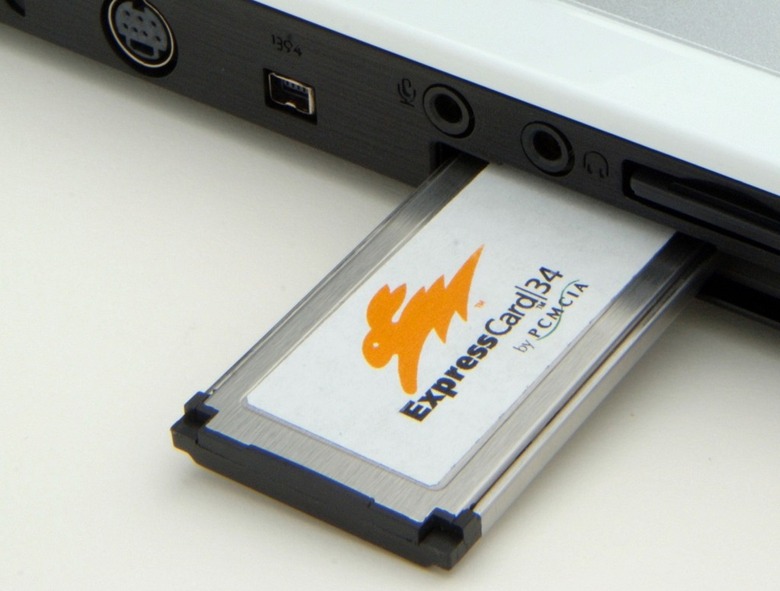 Apple may have dumped ExpressCard from their new MacBook Pro models, but PCMCIA - the organization behind the expansion card standard – are striding ahead with the official release of ExpressCard Standard 2.0.  Transfer speeds are reportedly boosted by up to 10-times compared to ExpressCard 1.2, the existing standard, and there's also support for SuperSpeed USB 3.0.
In fact the up to 5Gbps bandwidth will make ExpressCard 2.0 even more useful for adding eSATA ports and high-speed storage such as the latest breed of SSDs.  PCMCIA also envisage it being useful for streaming video and audio adapters.
As we already knew, ExpressCard 2.0 is also backward-compatible with previous cards, so existing accessories - such as 3G data cards – will work in the new sockets.  The first products using the new standard are expected to reach the market in 2011. 
Press Release:
ExpressCard® Standard 2.0 Now Available from PCMCIA

New Standard Supports Faster Transfer Rates Tied to the New SuperSpeed USB Spec

PCMCIA, the leading technology trade association for PC Card™ and ExpressCard® technology, today announced the newest release of the ExpressCard Standard 2.0, the latest version of the standard for high-performance expansion of notebook systems. This version was updated to accommodate the faster speeds demanded by today's high-performance technologies.

A Computex press conference will be held at 11am, on Wed., June 3, at the PCMCIA booth N204 at the Taipei World Trade Center Nangang Exhibition Hall.

The new ExpressCard Standard will support transfer rates ranging up to10 times faster than ExpressCard Standard 1.2, depending on the data protocol used. Some of the applications that benefit from the improved performance are:

E-Serial Advanced Technology Attachment (eSATA) adapters for external hard drives;

High-performance streaming media/video adapters; and

High-performance storage modules such as solid-state drives (SSDs).

USB 3.0 adapters supporting large file transfers between computers and peripheral devices.

The ExpressCard 2.0 Standard will support the latest versions of the PCI Express and SuperSpeed USB (USB 3.0) specifications by offering transfer rates of up to 5Gbps. The ExpressCard 2.0 Standard supports backward compatibility with previously released products.

BACKGROUND

ExpressCard technology offers a high-performance optional expansion capability that enables users to upgrade their Apple or PC notebooks with applications that were not originally included by the manufacturer or were not available at the time of purchase.

The Standard continues to support the Windows, Mac and Linux operating systems.

Current ExpressCard "plug 'n' play" applications include flash memory, WiFi, TV tuners, smart card readers, instrumentation, 3G, USB, 1394A&B (Firewire) and SATA.

ExpressCard and PC Card slots are found in more than 95 percent of consumer notebook computers.

AMD, Fujitsu Siemens, Intel, Lenovo, Lexar Media, LG Electronics, Microsoft, Qualcomm, SanDisk, Sony, Texas Instruments and Toshiba are among those supporting the ExpressCard Standard.

SUPPORTING QUOTES

Brad Saunders, chairman of PCMCIA: "The ExpressCard 2.0 Standard brings a whole new level of performance to the notebook market. Users of applications such as streaming media, flash memory and large data transfers will see up to 10 times higher transfer rates using ExpressCard 2.0 Standard products. We can expect to see these products on the market in 2011."

Jeff Ravencraft, president and chairman, USB-IF: "The new SuperSpeed USB specification offers significant performance advancements for the next generation of consumer electronics, mobile and PC platforms including notebook computers. ExpressCard developers can leverage the performance enhancements offered by both the USB and ExpressCard standards to create some exciting, innovative new products for PCs, storage and multimedia."

Al Yanes, President and Chairman, PCI-SIG: "The PCI Express technology is an industry standard, high-performance, general-purpose serial I/O interconnect designed for use in enterprise, desktop, mobile, communications and embedded platforms. As PCI-SIG innovates this technology, PCI Express continues to address developer demands for I/O expansion, performance and scalability. Working together with PCMCIA, the ExpressCard 2.0 Standard helps these developers bring high-performance PCI Express technology to I/O modules for the notebook and other mobile applications."
[via ExpressCard-Info]