Explay Colibri pico-projector module: 70-inch SVGA picture possible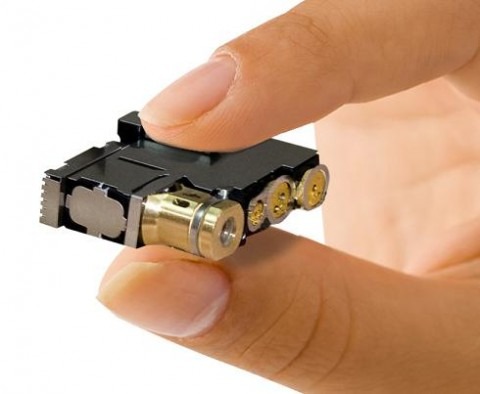 Texas Instruments may have wowed at CES last month with their pico-projector modules, but they certainly won't have the whole market to themselves.   At Mobile World Congress next week, Explay will launch their Colibri mobile-projection module, a compact projector capable of creating a 70-inch image at VGA, WVGA or SVGA resolutions.
In fact the Colibri measures just 24 x 28.6 x 7mm, and draws just 1.3W, supposedly making it the smallest, least power consuming and highest resolution projector module in the industry. Pictures from 7 to 70-inches can be projected from 20 to 200cm distance, with a 10Lm brightness.
The Colibri will be used in the latest version of Explay's OiO mobile projector, which promises 2.5hrs runtime from a unit just 50 x 100 x 14mm.  It apparently uses "Always Focus", which presumably removes the need for a manual focusing control, and can project onto flat or curved surfaces.
We'll hopefully have a chance to catch up with Explay at MWC next week, and see if the Colibri and OiO are everything the company promises.
Press Release:
Explay to Unveil the Colibri™ Mobile-Projection Module during 2009 Mobile World Congress in Barcelona

Colibri™ is the smallest, least power consuming, highest resolution projector module in the industry.

Explay announced today that it will unveil the Colibri™ mobile-projection module with SPELL™ projection technology (SPEckle-free LCoS Laser) during the 2009 Mobile World Congress in Barcelona. Explay will be demonstrating the new module from February 16-18, 2009.

At less than five cubic centimeters in volume, Colibri, Explay's third generation projection module, offers an unrivaled set of deliverables in terms of size, resolution and power consumption. It is the smallest, highest resolution, eye safe, always focused, speckle-free, least power consuming module in the industry. It also has an unprecedented color gamut that can project any multimedia content onto any flat or curved surface.

Daniel Oleiski, CEO of Explay, said, "Embedding the Colibri will turn any cellular phone into a high-quality projector. It enables cellular users worldwide to project, view and share visual content anytime and anywhere. Understanding this, leading cellular manufactures and operators are already validating the Colibri for their next line of devices. We are excited to demonstrate the new Colibri module projector during Mobile World Congress to select customers and partners."

Mr. Oleiski continued, "The market for cellular projection is currently composed of companion handheld projectors and embedded projectors. Explay's technology can serve both markets and can be customized according to the needs of each customer."