Expedia's new tablet app wants to make travel sensual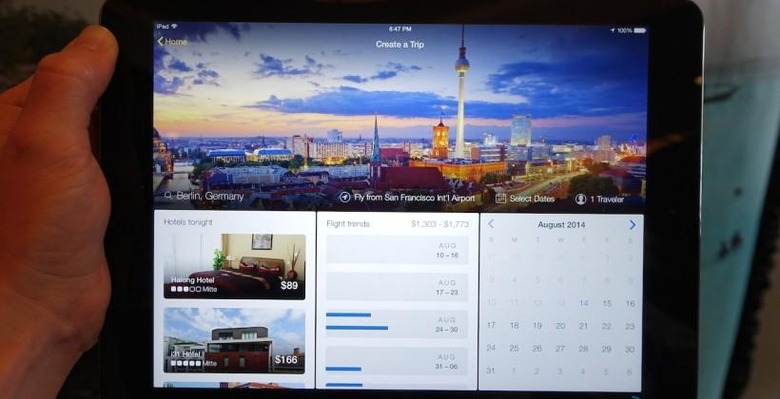 "Travel is a sensual product, and travel shopping is about as industrial as you get. I think buying a blender on Amazon is probably more sensual than booking travel." So speaks Dara Khosrowshahi, CEO of Expedia, and a big believer in helping you book your next vacation from whatever device is nearest you. Expedia's new tablet app won't hit app stores until this fall, but I grabbed some hands-on time with the latest pre-production version to find out whether Khosrowshahi had actually made booking flights sexy.
At its heart, the new app comes as Expedia tries to deliver not only a version of its booking service across platforms, but to also take into consideration how those platforms are used.
"Mobile isn't new, but people are truly going across devices and expecting a consistent service across devices," Khosrowshahi explains. The market has gone from users "pulling" information on a single platform, to pushing data across multiple devices, whether they be the desktop, tablets, smartphones, or even wearables like smartwatches.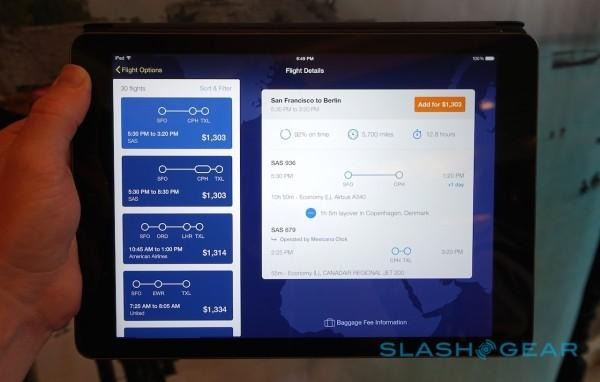 Existing ways of looking at travel generally demand you use a single screen, however, unless you want to start again from scratch. "We don't think there are many retailers that are connecting those experiences together," the CEO says, pointing out that Expedia's average consumer performs 48 searches before booking a flight.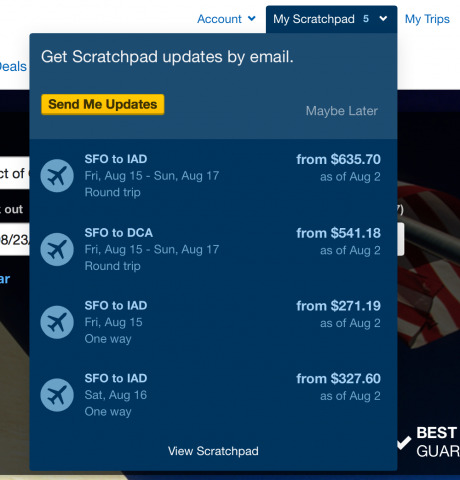 That insight led to the recently launched Scratchpad, effectively a cross-device log of your recent flight and hotel searches. Expedia runs labs to see how average users go about tasks like finding the cheapest air travel for a certain trip, and realized that most ended up scribbling down the results of each search on a paper notebook.
The Scratchpad works as the virtual version of that notebook and, thanks to cookies and accounts in the mobile apps, is updated in real-time across every device you're using. So, if you're flicking through possible hotels for a weekend getaway on your phone while on the bus home from work, whatever you've found will also be waiting for you when you open Expedia in the browser on your desktop.
Scratchpad began showing up on Expedia recently, but next in line is the new tablet app. There, the company has taken a different approach, figuring that most tablets are used for casual browsing, and so the Android and iPad software is more about discovery.
"We wanted to think about planning the trip," Khosrowshahi explained, "rather than the components of the trip." So, the UI is pared back from the numerous buttons and checkboxes of the desktop interface, focusing instead on a few large graphics that are easily swiped and tapped.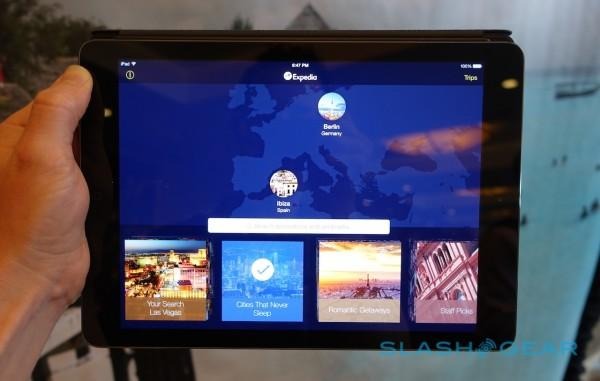 The initial assumption is that you'll be traveling from wherever you are now (though that can obviously be changed), and so you can start browsing simply by choosing a destination. If you can't even decide that, there are categories that run along the bottom of the screen – such as "cities that don't sleep" and "foodie trips" – that bring up suggestions.
Once you've picked a location, three boxes run along the bottom of the screen: hotel, flights, and the booking box. Tap for hotels and you see all the possibilities on a map, with photos, traveller ratings, pricing, and all the other usual details. For flights, you can get an idea of cost patterns without selecting specific dates, but once you've selected those you see a list of different airline options.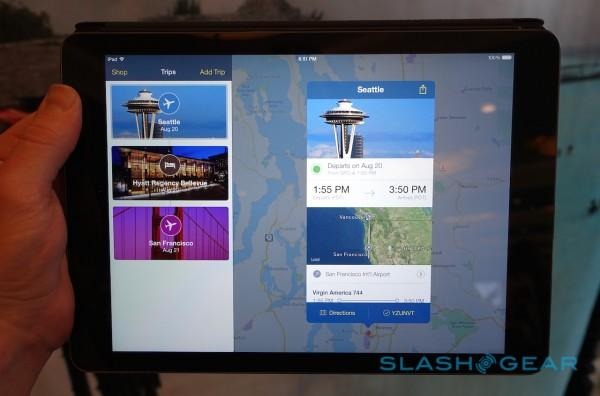 Tapping a pick from each drops them into the booking box, from where you can add the details of other travelers and then pay. Alternatively, of course, all the search results you've looked through are saved in the Scratchpad, so you can check them over again from your laptop or phone if you'd prefer.
Expedia's path to the new app began around five years ago when, as Khosrowshahi describes it, the company decided it wanted to be the tech-savvy travel site in a field of fairly bland competition. That demanded rebuilding the back-end systems from the ground up, Expedia allowing its engineers to effectively take the reins and create the architecture they thought would be best.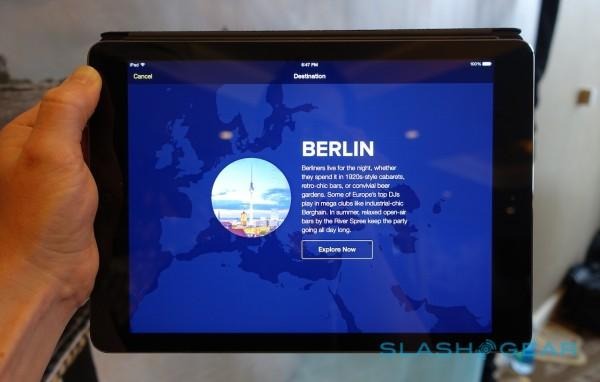 The result is a more modular approach, where individual components of the site can be worked on my small teams without requiring everything else being changed to accommodate it. The Scratchpad, for instance, was the handiwork of three coders, and simply slotted into the site when they were done with it.
Expedia's ambitions don't end there, however. The company aims to change the themed collections on a regular basis, but is also considering celebrity picks, perhaps, or the ability to share your own collection with someone else. So, a husband and wife could collaborate on a trip together by each sharing what they'd found with the other person.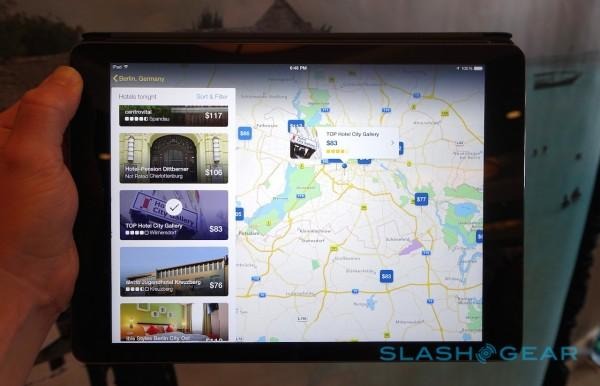 Later on, there'll be deals support – savings if you book packages of flights and hotels together – and a greater push into services like Airbnb. Expedia already offers vacation rental inventory for longer trips, through Homeaway, but is watching the trends there closely. Still, according to Khosrowshahi there hasn't been a noticeable hit on hotel bookings because of Airbnb, and in fact demand is up year on year.
Meanwhile, the system as a whole will get smarter. Khosrowshahi's goal is a "travel data platform wherever you are," with context-specific notifications and alerts depending on the device you're using at the time. So, if there's a significant price drop on something saved in your Scratchpad – a $100 drop in an airfare, perhaps – you might get a push notification to your smartwatch about it.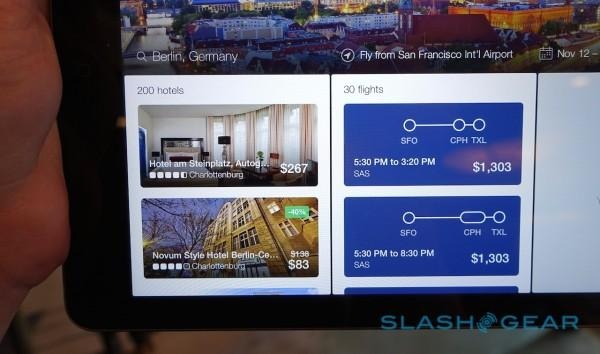 Expedia doesn't expect customers to actually book travel from a watch. However, it'll certainly make things like the itinerary available from there, and plans to add things like timely notifications for gate changes, reminders on when to check-in and when to leave for the airport, and which carousel your bags are going to emerge at. The company has already released an app for Samsung's Galaxy Gear 2 this past week.
The concept sounds a lot like Google Now but focused on travel, and indeed Khosrowshahi thinks that's a good comparison. "There are very few entities that have the power to give you those notifications within the context," he points out, adding that while Google faces the challenge of having to do a little of everything with Google Now, Expedia can specialize in just one field.
With 50-percent of users already shopping across devices, the tablet app probably can't come too soon. Expedia expects it to show up in the App Store and Google Play this fall, while the company is watching Windows tablet interest closely to see if it's worth its while creating a version for Microsoft's platform too.