EVO View 4G Hands-On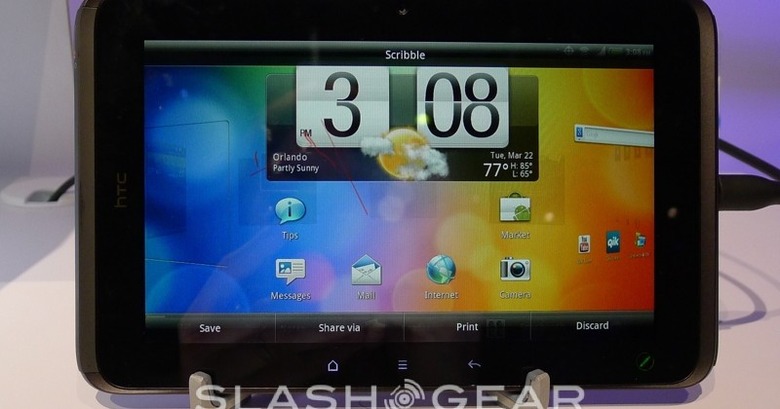 This year at CTIA 2011 we've gotten extremely close to the EVO View 4G. Like so close that we're basically married now. We saw this device earlier this year at Mobile World Congress 2011 as the HTC Flyer but we did not get to get nearly as close as we'd have liked, but then again, it wasn't quite ready for the spotlight in its then-unfinished form. Here we have a device that's much closer to what you'll be purchasing in the store – a competitively sized and functioning tablet that'll go in direct competition with the Samsung Galaxy Tab 8.9 we got the opportunity to check out earlier today.
It's a tablet war! This device will definitely enter the market as a little cutie to be reckoned with, it's Scribe Pen, otherwise known as the Scribe Digital Pen, allows you to both take notes and record audio a the same time, the application of lines syncing up perfectly with the audio if you want to go back and search visually. That means if you drew a dog when the speaker you were listening to was speaking about a particular dog, you can just click that dog you drew and the audio will play from the moment you drew the dog. Magical!
EVO View 4G Hands-On video
[vms 7b8358eababa07fcaf09]
This device is running a recognizable Android interface at the moment, it's still on a handset version of Android while it's set to be upgraded to Android 3.0 Honeycomb soon after launch. This is a device that's not just comparable to the brand new Samsung Galaxy Tab 8.9, it's basically set to get in a knife fight with it. It MAY have an edge as it's got a packaged KNIFE with it though, that pen very possibly a superstar.
Take a look at the presentation video above and the photos below, and take note that this is a device that'll be launching without Honeycomb but will be upgraded to Honeycomb "as soon as it's ready," so they say. This device is one you'll want to grab if you're into the idea of penning the whole day through.