eviGroup Wallet Android specs revealed: promising MID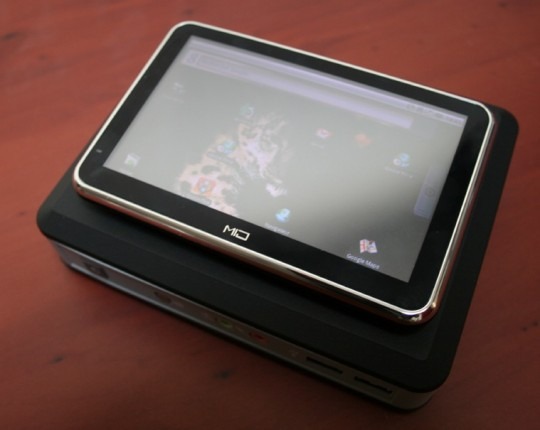 Having shown us a video of the touchscreen Wallet MID in action on Wednesday, eviGroup are now back with the full spec-list for their 5-inch Android tablet.  The French handheld is based on a Samsung ARM 533MHz or 667MHz CPU, with 128MB or 256MB of RAM and an 800 x 480 display; it will run Android OS 1.5 (with a subsequent update to 1.6) and have WiFi b/g, GPS and integrated 3G.
There's also a microSD card slot (supporting up to 8GB cards) together with either 2, 4 or 8GB of internal memory.  The Wallet has both a 3.5mm headphones jack and a built-in speaker, two miniUSB ports each offering Host capabilities (for plugging in keyboards and other peripherals) and a 2-megapixel camera.  Finally there's an FM transmitter and a Li-Ion battery, though eviGroup are yet to make runtime claims.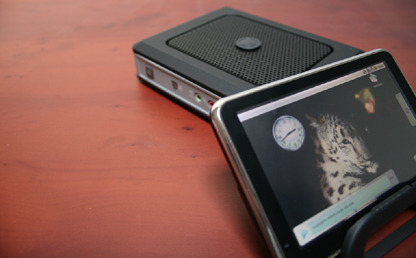 While the use of Android means that the Wallet MID should work reasonably as an internet access device, it's the media playback that seems particularly decent.  As well as WVGA H.264, WVGA H.263, DivX 4/5 and WVGA Xvid video, the Wallet can also play Flash 4/5 video, various audio filetypes, show pictures, and apparently has integrated Freeview digital TV with the ability to record live broadcasts.
That's all stuffed into a device measuring just 116 x 77 x 14 mm and weighing 200g.  eviGroup say the specs could be tweaked before the expected launch in late-December/early-January, when the Wallet is expected to launch in France and then further afield in Europe priced at around €300 ($440).