eviGroup Pad Windows 7 UMPC live photos spotted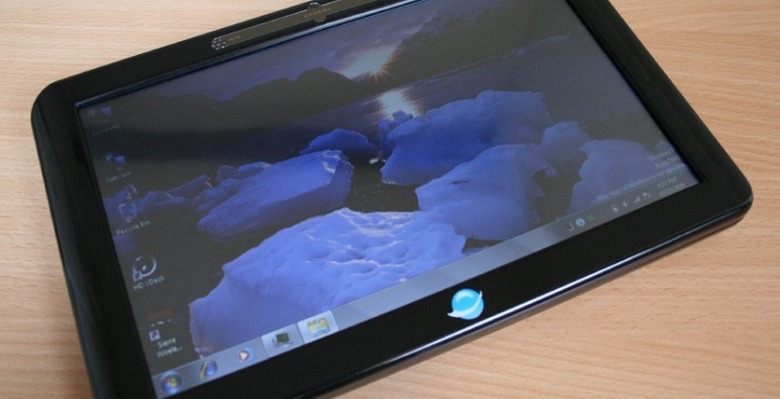 French MID/UMPC manufacturer eviGroup have released a few preliminary images of their upcoming Pad touchscreen tablet, and while we're far from making up our minds about the Windows 7 slate yet, it's looking reasonably attractive in a "digital pictureframe" sort of way.  The eviGroup Pad has a 10.2-inch 1024 x 600 resistive touchscreen, WiFi a/b/g and integrated 3G, and bundles a new "AI UI" called Seline which promises less pecking with a finger or stylus and more straightforward access to data.
Grunt is courtesy of a 1.6GHz Intel Atom CPU paired with 1GB of RAM and a 160GB hard-drive, so we're expecting regular netbook performance from the slate.  There's also three USB 2.0 ports, an integrated webcam and microphone, ethernet port and a multiformat memory card reader.
eviGroup expect the Pad to come in at under €500 ($745) with Windows 7 and Seline, though we're still unsure as to when it might arrive.  Pictured in this second shot is the Pad with eviGroup's Wallet MID, a 5-inch Android-based touchscreen handheld.