Every Fallout 4 video, photo, and detail revealed so far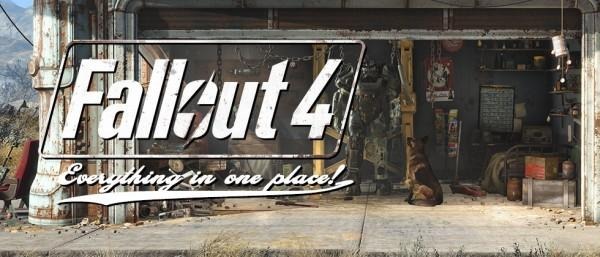 Bethesda Softworks reveals Fallout 4, complete with a full-length in-game engine, images, and graphics for the public. What we're going to be doing here is sending over all the details and the images AND the video so you can get it all in one place. Consider this the definitive detail repository for Fallout 4. To begin, you'll want to know that Bethesda Softworks of Rockville, MD, a ZeniMax Media company, has confirmed the GLOBAL release of Fallout 4. Whether or not that means you'll be able to get the game at the same moment on release day worldwide is not yet known. Below you'll see every photo and video released on Fallout 4 by Bethesda Softworks thus far.
Fallout 4 is being developed at this time for PC as well as Xbox One and PlayStation 4 at this time. This is the direct follow up to the 2008 'Game of the year' Fallout 3. According to Bethesda Softworks, this is also "the first title from the world-renowned studio since the release of their global phenomenon and 2011 'Game of the Year', The Elder Scrolls V: Skyrim."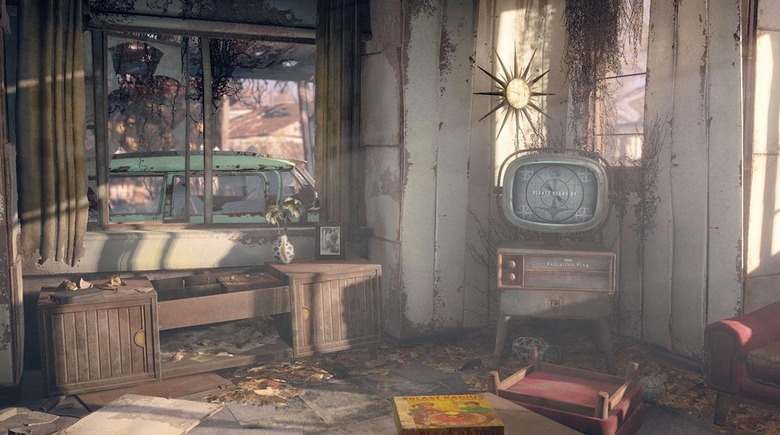 According to Bethesda Softworks Game Director Todd Howard, "We know what this game means to everyone."
"The time and technology have allowed us to be more ambitious than ever."
"We've never been more excited about a game, and we can't wait to share it."
Presented in full, wide format, the following video is the first in a line of Fallout 4 videos released by Bethesda Softworks. This is the first trailer – not gameplay, necessarily, but it is officially "the game's official trailer, created in-game at Bethesda Game Studios."
Straight from Bethesda comes the following gallery of packaging images.
Get up close and personal as you please with the boxes for Xbox One, PlayStation 4, and PC.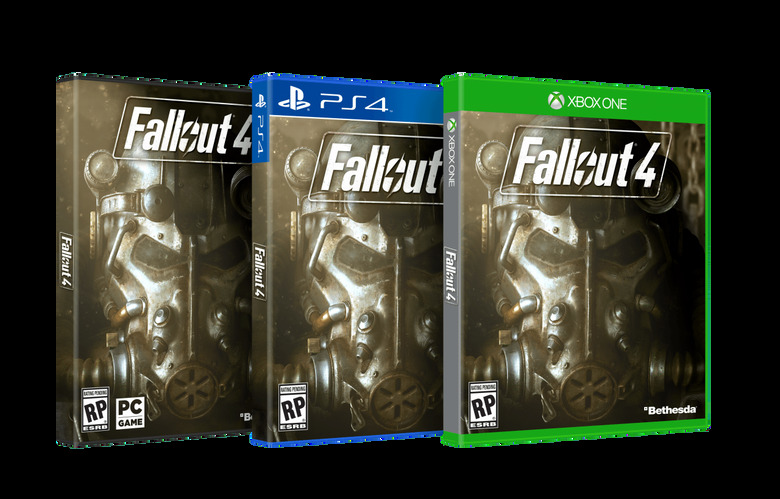 Click the image above for the original. Below you'll find each box on its own. Notice the similarities between the boxes. So similar!
Next you'll see Some odd assets that've been left here and there across the web – like this "Welcome Home" poster in a tweet from Bethesda:
Welcome home. #Fallout4 pic.twitter.com/e2HJHYUUX7

— Fallout 4 (@Fallout_Four) June 3, 2015
See the full-sized version here:

A gallery of artwork for the game and the newest iterations of the brand logos for Bethesda Game Studios rests below. The BGS logo hasn't changed much in recent memory, but this is the first look we're getting at the different iterations of the Fallout 4 logo.
The image below is the first and only official "screenshot" from Bethesda of Fallout 4. Does it look like an in-game engine shot, or a shot from gameplay to you?
Toys you're seeing here come from the people at Funko Pop! They're being presented by the folks at Funko with the following bits of text:
"The Fallout Pop! series includes both a male and female Lone Wanderer, the protagonist from Fallout 3, alongside a slew of enemies. No Fallout collection would be complete without a Deathclaw Pop!, one of the most fearsome mutant dwellers of the Wasteland or
a lethal soldier from the Brotherhood of Steel!"
"You may want to seriously consider adding the unnatural brawn of a Super Mutant and impulsively savage Ghoul to your group too! And get ready! Vault Boy – essentially the mascot and face of the Fallout series – is coming as a Pop! too!"
Glean some details about the future of the game's contents from this set – but know this: it's not odd that this toy set might contain elements NOT present in the new Fallout 4 release. That's entirely possible, in fact.
The following tweet comes from Ron Perlman who will – as it should be obvious at this time – be part of this game's audio setup. His epic, grizzly voice, that is to say.
...one of the tougher secrets I ever had to keep...

— Ron Perlman (@perlmutations) June 3, 2015
The next image is picked up out of the thumbnail spot from the original YouTube listing of the trailer. Here you're seeing what's essentially a futuristic Scollay Square, Boston.
Here's another view – the opposite direction – this image does NOT come from Bethesda. It's a vintage post card from the real place. Notice that theater to the right – it's on the left in the screenshot above.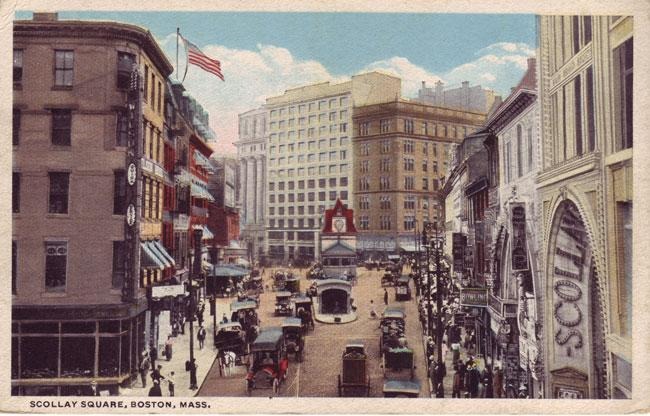 Those of you that've signed up for more information through Fallout4.com, you'll find the following message sent to you in a lovely digital envelope of love!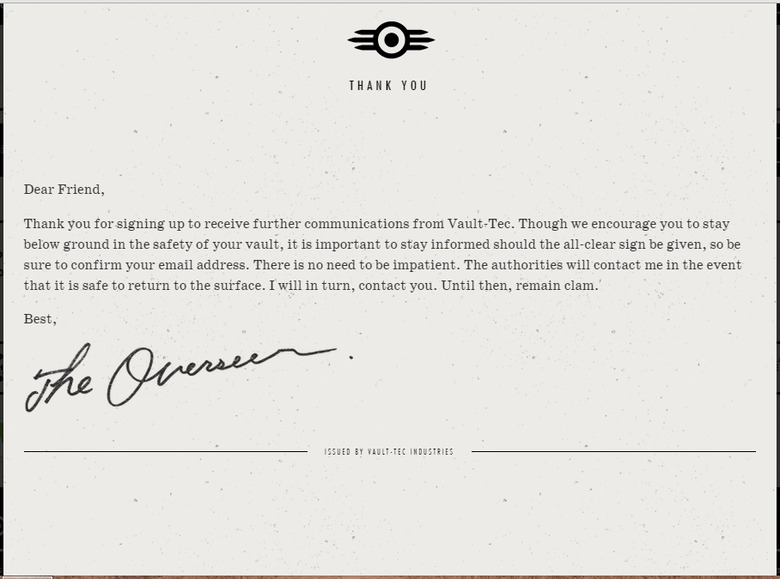 Look how classic it looks!
Grabbed from the innards of Fallout4.com, you'll see here our friend from the vault, here to present the E3 presentation by Bethesda. This event will take place on June 14th, 2015, at 7PM PST.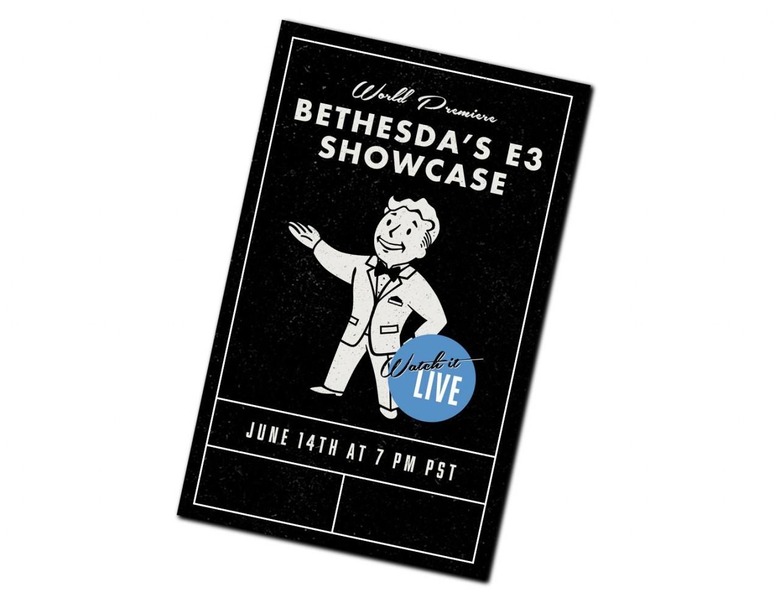 [amazon B00YQ2MM2M] You can bet we'll be there.
NOTE – again, to be clear, we'll be jamming this article full of additional details as they appear, too – don't you worry!
Stick around our Fallout 4 tag portal from now on as well!
UPDATE: June 3rd, 4:00 PM Central Time – Bethesda has updated their pre-release page from an estimated release date of "TBA 2015" to "TBA.""Your entire order will be held until this product becomes available. The current estimated ship date is TBA."
No surprise there – this game isn't coming inside the next few months – not by a long shot.
UPDATE: June 4th, 2:00 PM Central Time – Bethesda releases a set of in-trailer screenshots captured at original quality.
Above you'll see the (small) gallery of those images in their original form. That's 1080 x 1920 pixels large.
UPDATE: June 15rd, 4:00 PM Central Time – Bethesda provides additional screenshots and bits and pieces from Fallout 4. Have a peek at the cuteness.
New Fallout 4 Pip-Boy Edition revealed! This release will cost $119.99 (US), €129.99 (Europe), and £99.99 (UK) and will include the following:
• Pip-Boy Replica, Stand and Capsule Case. This wearable device faithfully replicates the in-game model and comes complete with RobCo Industries stand, custom-printed capsule, adjustable foam cuff, rotating knobs and lights. Designed to accommodate a variety of smartphone devices with customizable foam inserts, the Pip-Boy is the ultimate accessory for the official Pip-Boy companion mobile app that allows players to manage their in-game inventory, perks, holotapes, and more.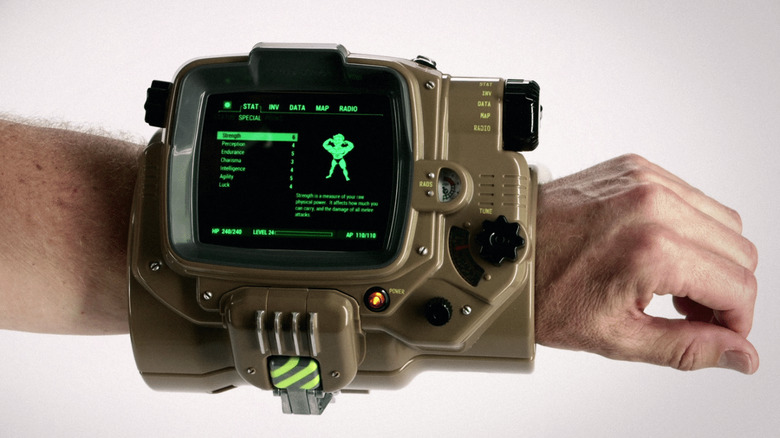 • Physical Pip-Boy Pocket Guide. Featuring handy illustrations and chock full of Vault-Tec approved tips, this manual is the ultimate how-to pocket guide for using and maintaining your new Pip-Boy.
• Physical Vault-Tec Perk Poster. Keep track of your perks with your very own physical Vault-Tec perk poster, fully-colorized retro fun for the quintessential Wasteland survivor.
• Power Armor Collectible Metal Packaging. Exclusive to the Pip-Boy Edition, this decorated metal case is the ultimate fan collectible.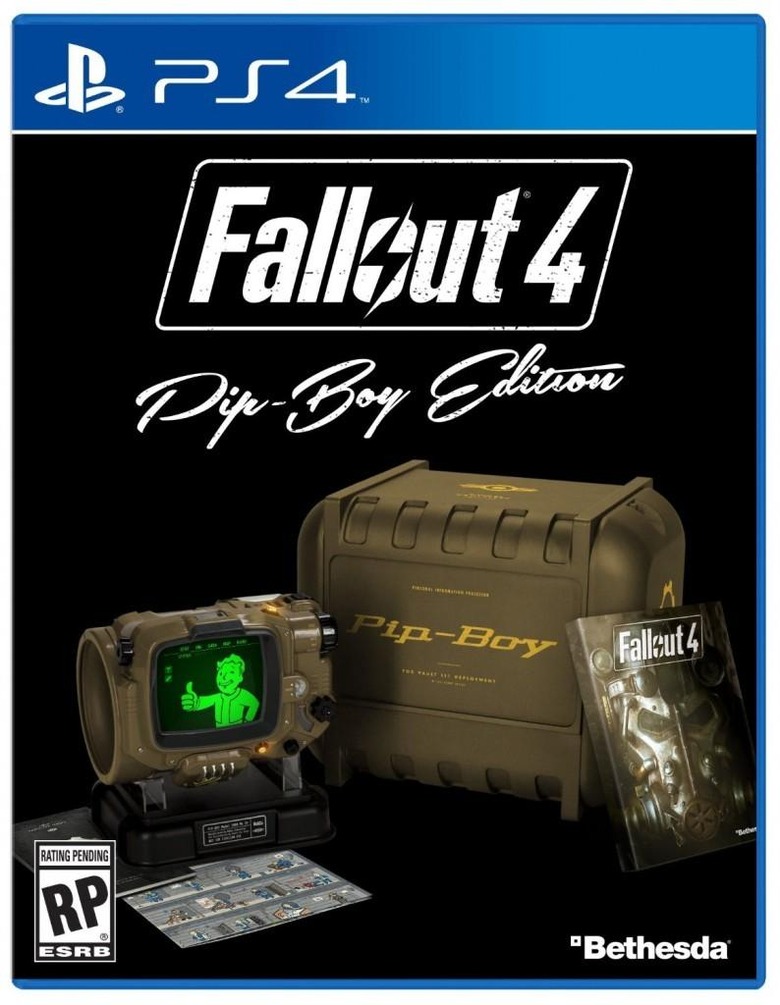 Above you'll see a couple of images of the special edition with Pip-Boy device. It'll actually work! This version of the game will be released on November 10, the same as the regular game – you can pre-order the game this way right this minute.     
NOTE: Fallout 4 is scheduled for release on November 10, 2015.