Eton FRX3 hand turbine Radio and USB Charger Review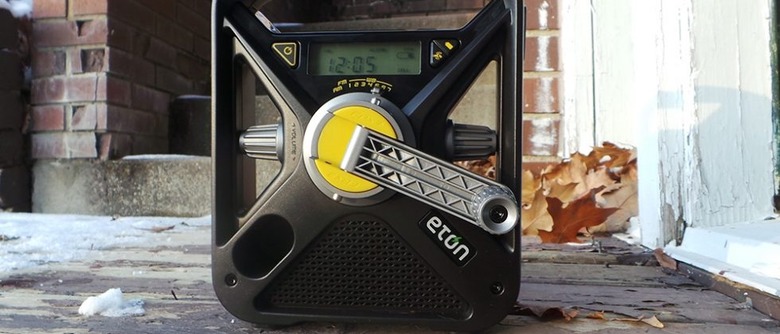 It's time to get ready for the inevitable zombie apocalypse now that we've passed by the Mayan end of the universe – what better way to do it than with your own self-chargeable AM/FM/NOAA weather ALERT radio, USB smart phone charger, and LED flashlight. This machine goes by the name Eton FRX3 and comes in two fashionably powerful shades: black/gray/yellow and red/gray. Up top you've got a solar charging panel, on the side you've got a hand-crank turbine, and on the inside you've got both a place for batteries of your own and the single rechargeable Ni-MH pack you'll be pumping up with the crank.
This machine is made to be rugged, prepared to stick with you be it in your own home for an emergency or out along with you camping. You've got connectivity with radio along AM and FM as well as all seven NOAA (National Oceanic and Atmospheric Administration) weather band stations – and an "Alert" system to boot! This "Alert" function, when activated, automatically has your unit broadcasting emergency weather alerts from your area.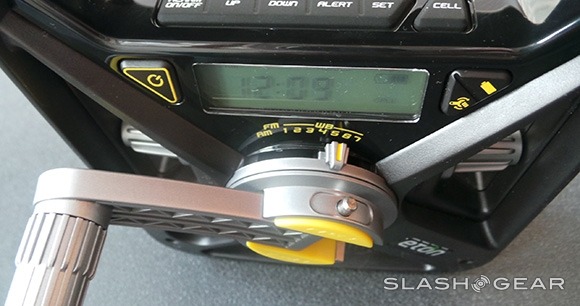 The turbine is quoted as giving between 10 and 15 minutes of radio and flashlight use per one minute cranked – and we've generally found that to be entirely accurate. If you're in an area where you've got your own supply of AAA batteries, you can feel free to use those too – and if you've got a wall socket, this machine takes in DC power via mini-USB. This machine also has the ability to "dump charge" your smartphone with its own USB port – plug your own microUSB cord in and let it pump up!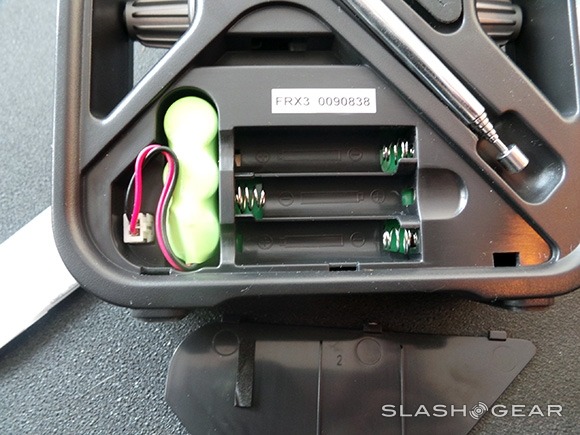 You've got the ability to play the radio stations as a standard radio would or you can choose to play tunes through the machine's AUX-input. This means that if you've got your smartphone and an audio cord, you can plug in and blast the tunes out through the FRX3 like a pro! There's also a 3-LED flashlight that can shine straight-up white or blink red, and all of the buttons around the entire device are illuminated. The area around the solar power panel is also glow-in-the-dark.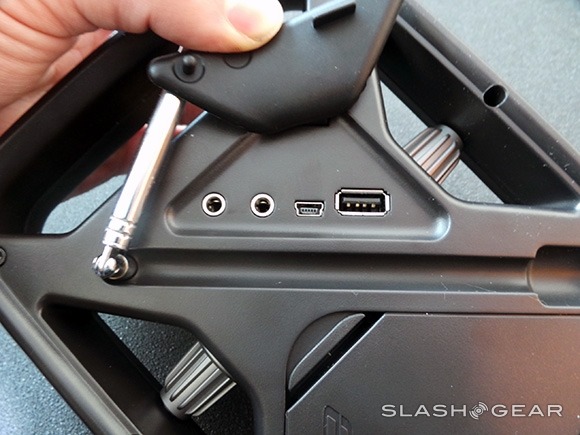 You've got a small display in the center of all this that shows you what you've got turned on or off, which radio station you've got on, and if you've got an alarm set up – yes indeed you can set this machine up to be your alarm clock, too. The display is back-lit so you can see it in the dark, and the whole device measures in at 7.875 H x 7 W x 3.5-inch D. You can pick this machine up at fine electronics stores near you for right around $60 USD, and it's worth every penny.