Eston MID stolen at trade-show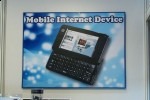 It's hard enough bringing your new MID to market without someone stealing your prototype, but that's what Eston Technology have had happen at the Hong Kong Electronics Fair.  Tech-On! stopped by to check out the touchscreen slider, which is based on an Intel processor and uses either Windows CE or Linux, but was told that someone had "walked away" with the mockup shortly after it was unveiled.
"The mockup has been stolen. It drew a crowd immediately after we unveiled it and someone seemed to have walked away with it in the confusion" Eston booth attendant
Eston are responsible for the software of the MID, with Chinese firm Guangzhou Skytone Transmission Technologies behind the hardware.  It's unclear whether the device stolen was a working prototype or a non-functional unit intended for photography.
That left Eston merely showing off their talking pen toy, which can read tiny barcode-like encoded dots printed in books and cards, triggering audio files.  Bizarrely, Tech-On! compare it's price to that of a beef bowl in Japan.  Since I'm not there, I don't know if that means it's cheap, expensive, or reasonable (can anyone tell me if a beef bowl is sensibly priced in Japan?)