eStarling digital photo frame gets touchscreen & WiFi-n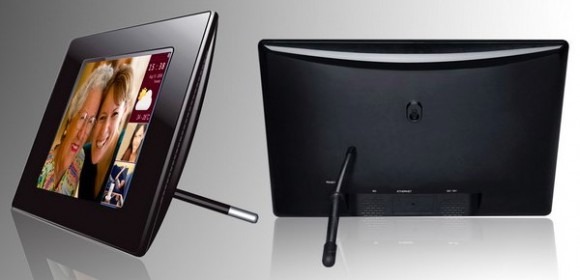 eStarling's first digital photo frame was roundly panned for being user-unfriendly and having a shonky external wireless dongle.  Now the company is back with a new version, and we'd like to think they've learned from their initial mistakes.  The eStarling 802.11n Touchscreen Connected Frame lacks a snappy name but does, as the title suggests, get a WiFi b/g/n update to support the faster standard, as well as a new touch-sensitive interface.
The 10.2-inch 16:9 800 x 480 display is still a little on the low-res side for our liking – there are plenty of netbooks out there with similarly sized panels running at 1024 x 600 and higher – but at least now you can jab at it with your finger.  eStarling have reworked their UI, too, with new finger-sized thumbnails and a split-page preview feature.  It'll also show video, though you're limited to cameraphone content (rather than, say, AVCHD or YouTube clips) and it has to be under 20MB in size.
As for the WiFi update, that supports the full gamut of regular security types and has a roughly 230 foot range (though indoors that will be less, of course).  As before, you can shoot over photos and video to the frame via a "connected inbox", meaning no PC is required, and you can also set up feeds from Flickr, Gmail, Picasa, Facebook and other online galleries that are automatically pulled down onto the eStarling's screen.  They've even pushed in a Twitter app.
We'll have to wait for the first reviews to see whether the eStarling frame lives up to the spec sheet, but if you're the danger-seeking type it's available to buy now, priced at $249.99 with shipping from November 15th.