Essential Phone Audio Adapter HD Released To De-Dongle Music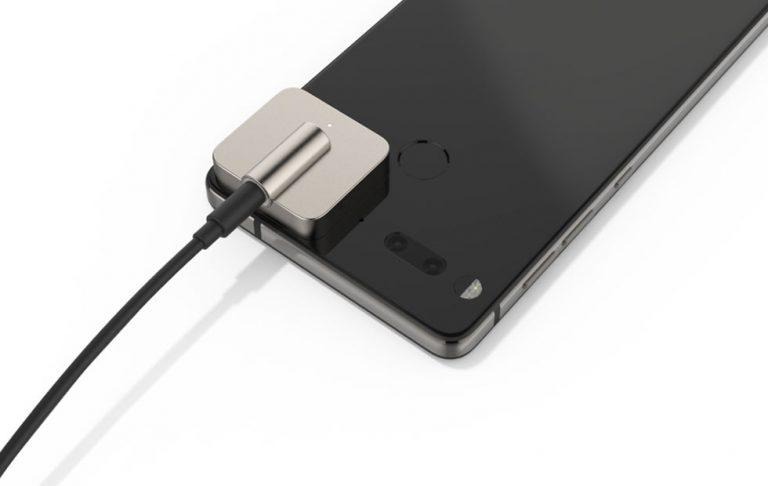 The folks at Essential that made the Essential Phone did not include a standard headphone jack with the phone. Instead, they included a dongle that allowed the phone to output audio through its USB-C port. With the Audio Adapter HD, the user of any Essential Phone PH-1 can make use of the phone's Click-Connect tech.
The back of the Essential Phone has two pogo-pin connectors. These connectors were put in place so that the device might be semi-future-proof, thanks to future accessories. With this system, users can attach accessories like the Audio Adapter HD to extend the abilities of the Essential Phone PH-1.
SEE TOO: Our original Essential Phone PH-1 Review
The Audio Adapter HD is a tiny piece of equipment sold in a "limited edition" by the folks at Essential. This is the same company that made the phone in the first place. Now that it's clear that high-definition audio is very much appreciated by at least a limited number of Essential Phone users, they've decided to make this one device.
• Model name – AAHD1
• DAC chip: ES9281Pro
• Resolution: 16, 24, 32 bit (MQA)
• Frequency: 44.1, 48, 96, 192(MQA), 384 kHz(MQA)
• Frequency response: 20 Hz to 20 kHz
• S/N ratio: >115dB
• THD+N:
• Input – Up to 24-bit / 96kHz
• MQA indicator – Two-color LED
• Audio connector: 3.5mm Audio Connector
• Data connector: Click Connect for PH1
• Mobile compatibility – works with PH-1
• IP rating – IP55
• Dimensions
• Length: 29mm
• Width: 30mm
• Height: 11.5mm
• Weight – 15.5g
Above you'll see the full specifications for this device. These specifications were last updated by Essential this afternoon – so they're most certainly up-to-date!
The Audio Adapter HD was made available from Essential online this afternoon. This device will cost users approximately $149 USD, and the product is on sale through Essential online right this minute.