ESPN+ launches April 12: Here's what you get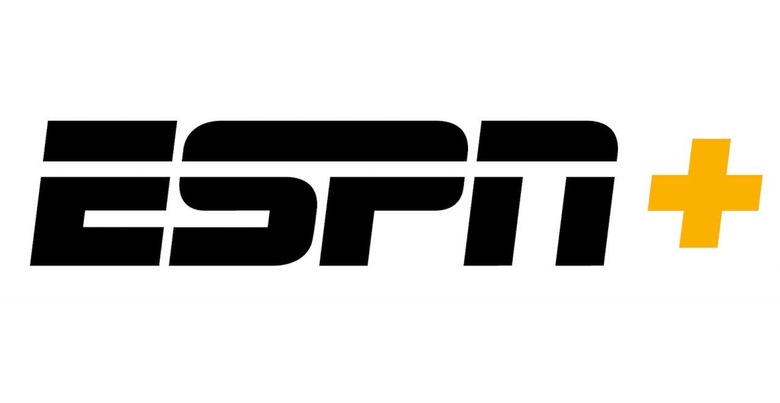 ESPN's streaming sports service, ESPA+, will launch on April 12 the network has confirmed, offering MBL, NHL, and more for a single monthly subscription. The new service will be integrated into a reworked version of ESPA's existing app, the company says, and include both live and on-demand content.
While the full line-up of sports content is yet to be confirmed, some of what will be on ESPN+ is being announced today. On the MLB front, there'll be an ESPN+ MLB game every day throughout the regular season, for a total of more than 180 games.
For the NHL, meanwhile, there'll be a similar number of games. That'll kick off with the 2018-19 NHL season, with a daily game throughout. MLS, too, will have exclusive content, with more than 250 games through the MLS Live out-of-market schedule.
For boxing, there'll be a year-round schedule. That will kick off with the Amir Khan vs. Phil Lo Greco fight in Liverpool, England, which will be held on April 21. College sports will be shown live in addition, spanning everything from golf through gymnastics, swimming and diving, wrestling, and soccer.
Then there's the PGA Tour. Over 100 days of live coverage – spanning 31 PGA Tour events including The Players Championship, the FedEx Cup Playoffs, and the Arnold Palmer Invitational – will be bundled into ESPN+, predominantly from Thursday through to Sunday. Grand Slam Tennis will include hundreds of matches from Wimbledon, the US Open, and the Australian Open. Finally, there'll be international rugby and cricket.
The service will be priced at $4.99 per month. As well as accessing it through the ESPN app, it'll also be available through the company's website. Alternatively, there'll be a $49.99 per year subscription option, which brings the monthly price down to $4.17.
As a further option, ESPN+ subscribers will be able to add the MLB.TV out-of-market package too. That will add another $24.99 per month. Come the 2018-19 NHL season, the entire NHL.TV out-of-market package will also be offered, though pricing for that has not been confirmed yet.
While you may not be a sports fan, Disney Media Networks' plans for ESPN+ may have bigger implications for you down the line. The company is planning to launch a Disney-branded video on demand service in late 2019, it has confirmed. That will include content from Disney, Pixar, Marvel, and Lucasfilm, comprised of both movies and exclusive media.