Eskimo Towelclip Radiator-spices up your bathroom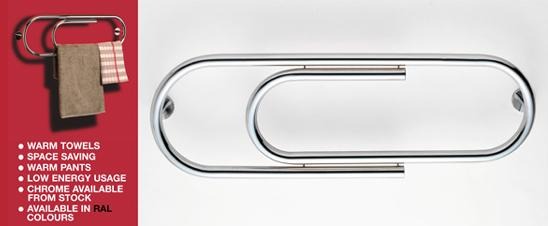 I'm sure most of us out there are a sucker for a hot towel straight out of the shower; it's just so much more snuggly that way. However, lets face it, not all of us can afford such a luxury and we don't always have the room for some of those clunky towel warmers. Why not buy the slightly eccentric paper clip to heat those fuzzy towels; it's even sleek enough to fit in the smallest bathrooms. Hey why not treat yourself to something a little frivolous every now and then?
My main bathroom is about the size of a closet, the guest one that is out of the way is nice open and pretty. Just peachy isn't it? I don't like my guests that much, that's just how my crazy house is laid out. The fact that this Eskimo Towel clip Radiator is sleek enough to fit into my bathroom is saying a lot. I know it's a little crazy looking, but I enjoy having things that look great and are just a bit on the odd side. If you enjoy going outside the norm, this radiator would be great for you.
It only uses 45W of energy; this means you can take more hot baths with hot fluffy towels. It comes in other colors, but personally I like the classic silver. However, hot fluffy towels do not come free, this radiator costs $680.
Towel Radiator Shaped As A Clip [via uber review]