EraThink EraPalm5 puts Windows into slider-PSP form-factor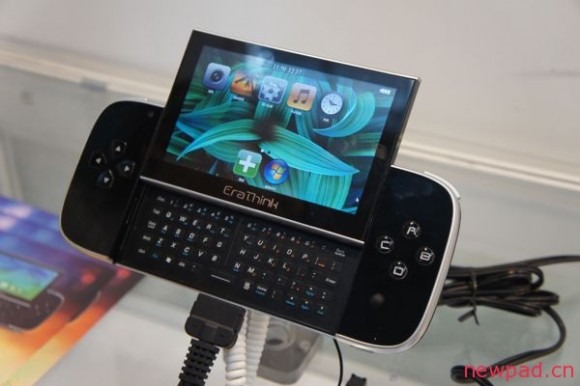 It may look a little like a PSP, but EraThink's EraPalm5 is actually another tiny Windows PC hoping to find its way into your jacket pocket. Spotted by Newpad at the China Consumer Electronics Fair, the slider has a 5-inch 800 x 480 capacitive touchscreen which pops up to reveal a tiny QWERTY keyboard, a D-pad and gaming-style face buttons, along with an HDMI output for up to 1080p HD video.
Other connectivity includes WiFi, 3G, VGA and USB, and there's a GPS receiver squeezed in there too. Inside is an unspecified Intel Atom Z-Series processor – squinting at the spec sheet in the gallery below suggests 1-2GB of RAM and 16-32/64GB of SSD storage – and EraThink is also showing off a dock with ethernet and other connectivity for when you're back at your desk.
It's not the first time we've seen PC hardware in a smartphone form-factor, and as ever the big concern is battery life. Running even a relatively low-power Atom CPU still sucks down juice in comparison to ARM chips as found in true phones, and while EraThink don't make any estimates for the EraPalm5, we're guessing it'll manage 3-4hrs at most. No word on pricing or availability.
[via Cloned in China]