Epson Moverio BT-30C smart glasses plug into your Android phone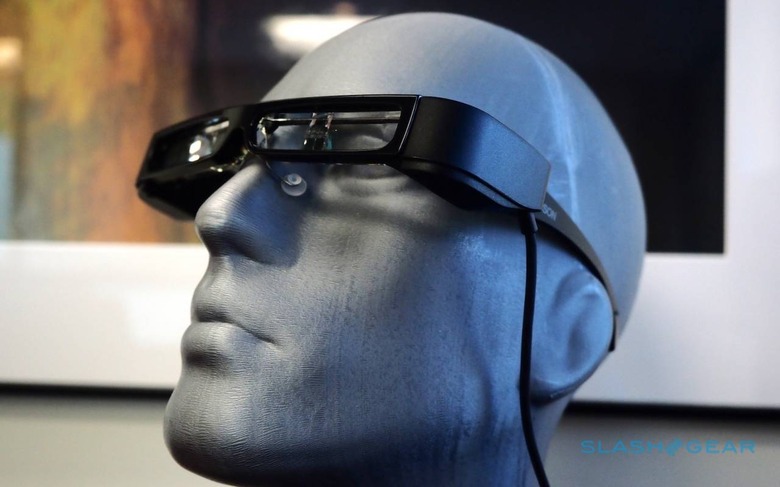 You don't need to wait for Apple to launch smart glasses in order to get an AR headset, and now Epson's Moverio line is making augmented reality even more straightforward. Latest addition to the company's smart glasses range, the Moverio BT-30C may look like a movie prop but it's actually the most consumer-friendly version Epson has designed so far.
At first glance at the spec sheet, little looks different between the Moverio BT-30C and the existing Moverio BT-300. Both use Epson's 300-series display platform, an OLED-based projection system that beams its image directly atop your line-of-sight of the real world. The BT-30C lacks a camera, but does have dual 9-axis motion sensors. However the biggest change is what's in your pocket.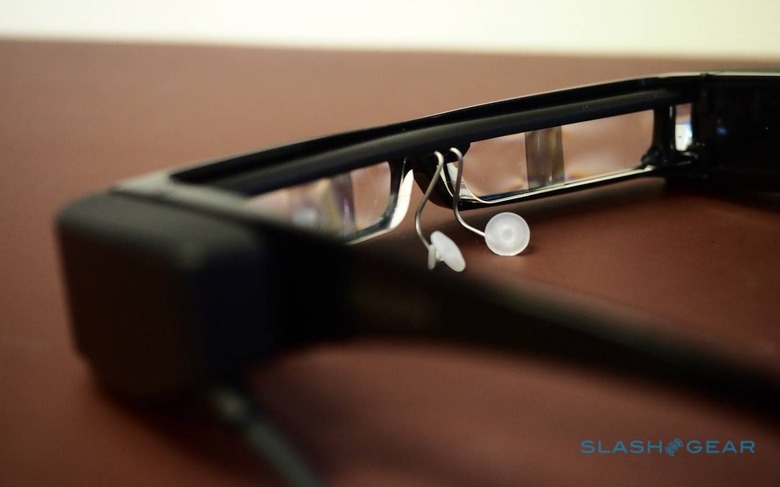 For Epson, the biggest change has been the device responsible for powering its smart glasses. The AR system has always been divided into the headset and a box that drives it; the latter is effectively an Android phone only without the cellular connection, camera, and display. That has allowed Epson to tightly control the hardware and software experience, but it has also brought along headaches too.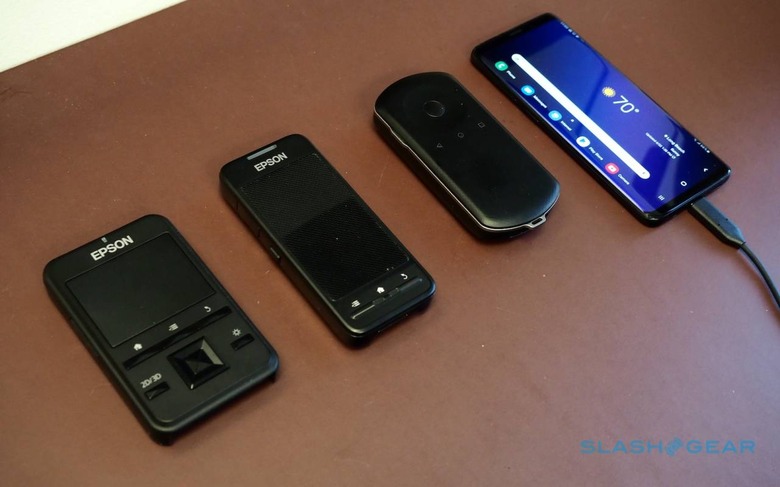 For a start, needing to supply a whole Android mini-PC pushes the cost up. Epson has also found itself at the whims of the chipset manufacturers, for whom a relatively niche smart glasses product is always going to come second – or third, or worse – to a mass-market smartphone. Finally, it has left Epson responsible for keeping its Android control box up to date, while at the same time locking the system out of the Google Play store because of Google's rules around devices.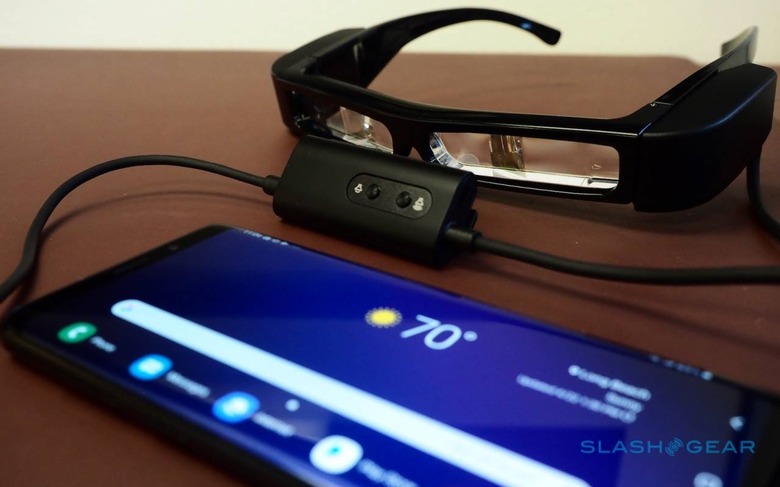 The BT-30C takes a different approach, then, and it's a mighty sensible one. It plugs – via USB-C – directly into an Android smartphone. That single cable delivers power and data, with everything being processed on the phone.
"We're working on things behind the scenes with Qualcomm to a) optimize the glasses and use cases for their chips," Eric Mizufuka, product manager for Moverio, told me, "and b) build those applications that really use the 5G network."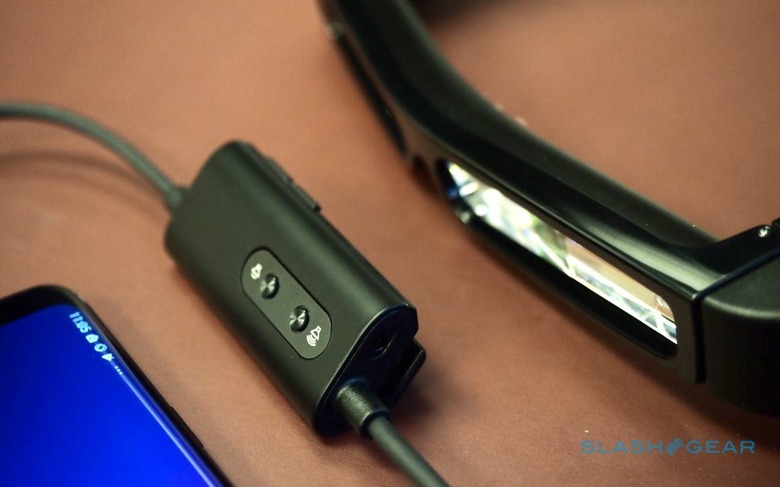 As Epson sees it, much in the way that phone-based headsets drove consumer virtual reality, now the BT-30C can ride a phone-based augmented reality wave. The headset gets to benefit from connectivity, the latest Android updates, and access to all of the Android apps and SDKs. For developers, there's "a minimal amount of tweaking" to optimize their apps for the smart glasses, Mizufuka tells me.
Put the Moverio BT-30C on, and the experience is a little like holding a ghostly Android phone up to your face. The rest of the room is still visible through it – Epson supplies a magnetically-attached sun shade for when you want better contrast, like watching a movie – but it's easy to focus on the Android interface and familiar apps.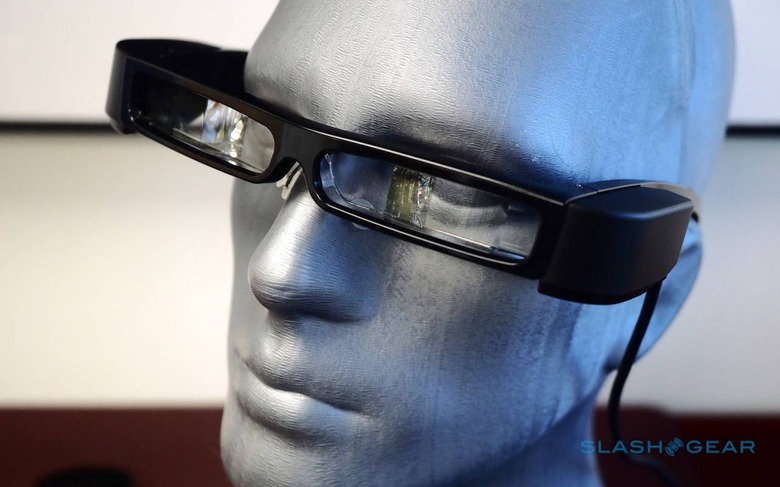 Currently, the phone screen remains on – though can be dimmed – and it's there you actually interact with the apps. Epson is working on a version of the Moverio app which shuts the display off altogether, though, Mizufuka says, but which uses the touchscreen as a trackpad. Because it's AR, though, and the headset is packed with sensors so as to know where you're looking, there's also the possibility of having the phone screen automatically shut off when you look away from it, but turn back on – and the Moverio display turn off, optionally – when you look back at it.
It'll also support 3D content, with each eye getting a slightly different perspective. Plug the USB-C into a Windows laptop, meanwhile, and the smart glasses show up as a second display. You could use that as a privacy screen, so that seat mates on a plane can't overlook your work, or simply to expand your desktop with a virtual second monitor.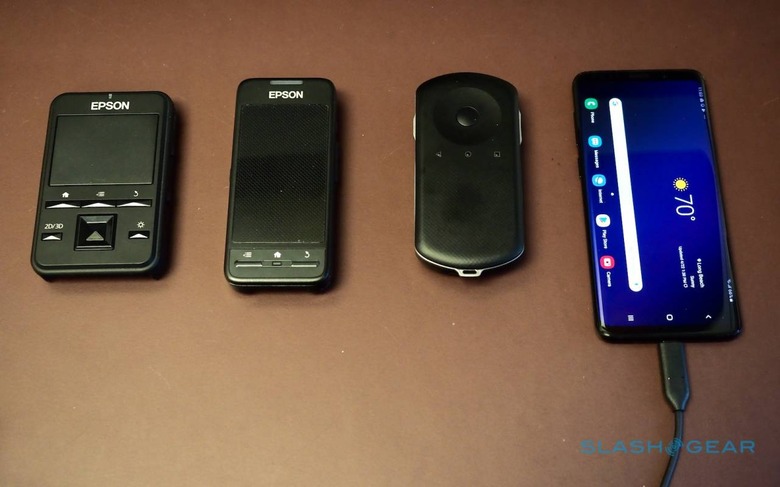 The downside to being USB-C based is that certain applications Moverio has found favor with won't work. One of the most popular use-cases is the BT-300 as a wearable display for DJI drones, for example. Because the drone controller has to plug directly into a USB port, however, there's no way to have both that and the BT-30C connected to your smartphone at the same time. For that reason, the BT-30C glasses will sit alongside, rather than replace, the BT-300 headset.
Still, there's plenty to like about the new smart glasses, and not least the fact that they're several hundred dollars cheaper then the existing set. It's not hard to imagine a virtual office space of AR displays, all being driven by your laptop or phone, pinned in space around you. That certainly seems like a more flexible way of multitasking than usual.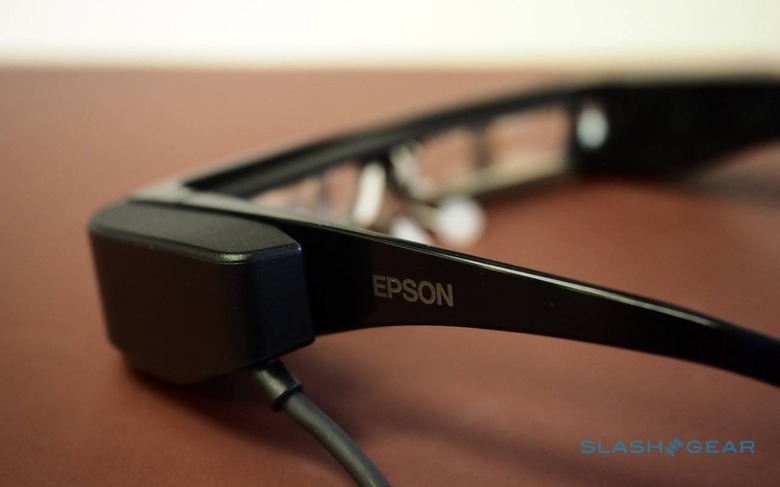 Personal entertainment, too, gets a lot easier when the BT-30C can simply mirror the Netflix, Hulu, or any other video app on your smartphone. Battery life is around three hours in total, Epson says, though it's workink on an external battery pack which will simultaneously power the BT-30C and your phone.
Boosting consumer adoption, though, is only part of the goal. Epson has already been seeing strong adoption in museums, theaters, and other venues, with the BT-300 used for subtitles for live events, translations, and guided tours. Feedback from those customers – wanting things like replaceable parts, easier charging, and Google services – helped shape the design of the BT-30C.
One thing that hasn't changed is the somewhat clunky, sci-fi appearance of the glasses. Nobody is going to confuse the Moverio BT-30C for a regular pair of prescription eyewear. The width, Mizufuka explained to me, is primarily because Epson designs the glasses to fit over most prescription glasses users might be wearing. If the business takes off, though, Epson could feasibly start up a second line and potentially cut the overall width by around 15-percent.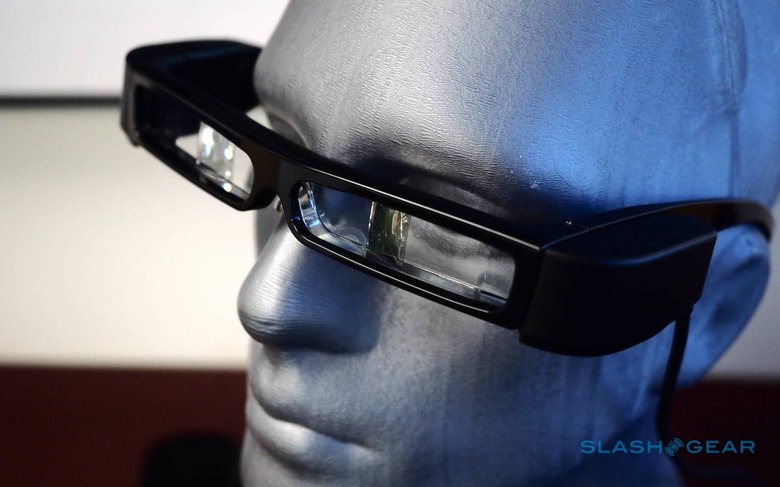 That's all dependent on market reaction, though Epson is confident USB-C is an important port for the years ahead. Future versions – with wider field-of-view, among other improvements – will use the connector. At the same time, though, there'll also be dedicated Android controllers, for markets where a single device is still preferable.
If you're ready for a taste of real-world AR yourself, Epson says the Moverio BT-30C smart glasses are up for preorder now. They'll ship come June 2019, priced at $499.