Epson EH-TW3000 super-quiet 1080p projector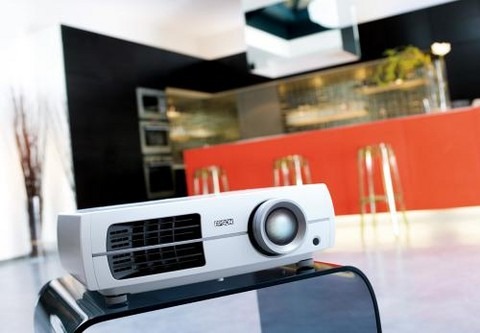 It's not just entry-level all-in-one systems; Epson have also announced a "proper" projector at IFA 2008, the EH-TW3000 with full 1080p high-definition resolution, a 20,000:1 contrast ratio and 2000 lumens brightness.  The EH-TW3000 uses the company's latest D7 3LCD panels with a 10-bit Pixel Works video processor chip to improve smoothness and clarity during fast-moving scenes.
Connections include dual v1.3 HDMI ports, and the EH-TW3000 is suitable both for temporary and permanent ceiling mounting. Both horizontal and vertical lens shift is possible, and there's a 2.1x zoom range to get the best sized image for the space you have available. Fan noise is much reduced compared to rivals, too, at just 22dB.
x.v.Colour compatibility rounds out the package. The Epson EH-TW3000 will be available in October 2008, priced under €2,000 ($2,932).
Press Release:
Full high definition home cinema takes a new twist with Epson's innovative EH-TW3000 projector

The new EH-TW3000 is leading the high definition revolution, combining numerous pioneering Epson technologies to provide a next-generation home cinema experience

29 August, 2008 – Worldwide leading projector manufacturer1 Epson has today launched a HD Ready 1080p projector that brings new levels of quality and performance across a range of applications. The EH-TW3000 is a home-cinema projector that brings a new look, new features and new levels of performance to movie, sports, television and gaming enthusiasts alike. Design has been at the heart of the EH-TW3000's development and a contemporary white chassis makes it a sleek and subtle addition to any fashionable home.

The EH-TW3000 integrates Epson's acclaimed 3LCD technology, resulting in more accurate colour reproduction and finer grey scaling in any light condition. Next generation D7 LCD panels offer enhanced image quality and an impressive 20,000:1 contrast ratio ensures clear, sharp and defined images as well as superb brightness for any light situation. This projector is in accordance with x.v.Colour standard and therefore ensures a wider colour production area to support perfectly smooth video playback.

Stéphanie Lugbull, Product Manager for Home Cinema Video Projectors, Epson Europe, says: "As we enter the HD era, projectors are becoming increasingly popular as an authentic home cinema experience, bringing the movie watching and gaming experience to life. Not only is the EH-TW3000 stylish and easy to install, a collection of exclusive innovations ensure extraordinary picture quality, brightness and versatility, all in full high definition."

In addition to refined image quality, Epson has featured high video processing capabilities to guarantee optimal sharpness and fluidity of moving images, even when used in conjunction with the latest games consoles. The EH-TW3000 also includes a 10 bit Pixel Works video processor chip to bring added smoothness and clarity to even fast moving pictures on screen.

Despite its intricate technical capabilities, the EH-TW3000 is quick and easy to install and set up. A x2.1 optical zoom capability, and a wide horizontal/vertical lens shift, makes image adjustment flexible and easy in any environment. This projector also boasts wide connectivity options, including two HDMI version 1.3 inputs. A reduced fan noise means the viewer can focus on the movie and not on the sound of the projector.

Stéphanie Lugbull added: "Epson is at the forefront of HD home cinema development and the EH-TW3000 is testament to our continued innovation and improvement in this area. However, none of our investment in technological innovation has been passed on to the customer and what the EH-TW3000 offers in terms of performance, it matches in value for money."

For peace of mind and to assure hours of big screen entertainment at home, Epson is providing a three year warranty to the projector and the lamp.

Epson EH-TW3000 key features summary:

HD ready 1080p (Full HD) with true high-definition 1920 x 1080p resolution >> wide screen for HD Cinema at home

Superior image quality with Epson's 3LCD technology (D7 panel)

High contrast ratio of 20 000:1

Super-high brightness of 2000 Lumens

Wide colour space and full 10 bit video processing (Pixel Works scaler)

Wide connectivity (easy connection to DVD/Blu-ray player, digital TV Tuner, Set top box, games consoles, computers and digital cameras) with 2 x HDMI 1.3 inputs (true 1080p signal video processing)

Easy and flexible to install : convenient horizontal and vertical lens shift, ceiling mount possibility, wide range of projection distances, optical zoom x 2.1

Really quiet projection: 22 dB fan noise

Stylish and new white design

3 years warranty on projector and lamp

Under €2000 RRP including VAT (Early price. Final price to be confirmed in October 2008)