Epson EH-DM2 all-in-one Portable Projector, DVD & Audio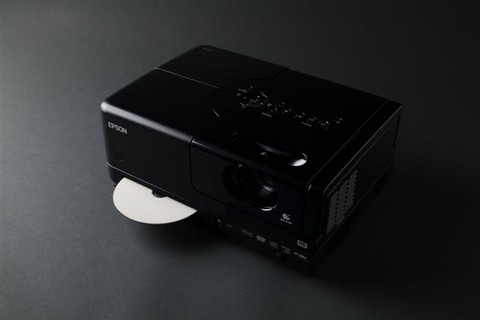 Epson have announced a new all-in-one projector, the EH-DM2, that couples a 1200 lumen projector with a DivX-capable DVD player and integrated 8W stereo speakers.  Intended to be highly portable, the EH-DM2 does not appear to be high-definition – Epson only say it supports an "HD compatible" resolution – rather it's targeted at the entry-level crowd who want a way to enjoy their movies and home media on a bigger screen.
The projector itself is 3LCD based and produces a 16:9 image.  Connections include component video and USB, for plugging in memory keys with photo albums and music.  Epson also include a luminous remote control and carry-case with handle and DVD disc pouches.
It's not going to set the entertainment world alight, and it's not entirely portable as you do need a power cable, but Epson aren't really aiming for the usual bleeding-edge early adopters.  Instead they'll give the EH-DM2 a bargain sub-€600 (under $879) price tag when it launches in September.
Press Release:
Experience the fun of giant screen cinema anytime, anywhere with the new Epson EH-DM2

The EH-DM2 is the latest all-in-one projector from Epson. Incorporating a DVD player and surround speaker system, this projector provides a simple, true home entertainment experience for all the family.

29th August, 2008 – Epson, the worldwide leader in the video projector market for the past seven years1, today announces the launch of the portable EH-DM2, a home entertainment centre with a contemporary black design. This new projector, combined with a DVD player (with DivX compatibility) and surround sound speaker system, provides the whole family with an easy to use widescreen cinema experience.

Stéphanie Lugbull, Product Manager for Home Cinema Video Projectors at Epson Europe, says: "Simple to use and fun, the EH-DM2 is a dream come true for family and friends looking for quality home entertainment. This highly portable projector can be taken wherever the owner wishes with its convenient handle and stylish storage case; to a friend's house or on holiday, you can even use it in your garden. Encompassing Epson's 3LCD technology, this multi-feature product is perfect for the whole family."

Two integrated 8 Watts stereo speakers bring virtual surround sound to the home cinema experience, whilst the EH-DM2 also offers a great brightness of 1200 lumens, and incorporates Epson's innovative 3LCD technology to create clear, sharp images and allow for projection even in bright environments. The projector can be connected to computers, digital cameras, games consoles and USB keys – offering true multimedia compatibility. Gamers will love the easy connection between their game console and the EH-DM2 too, allowing them to enjoy surround sound gaming on the big screen.

Stéphanie Lugbull continues: "Whether you are viewing movies, television, sport, video games, holiday photos or listening to music, the giant screen cinema experience can now be enjoyed anytime, anywhere. Just plug in, sit back and enjoy."

HD compatible and integrated with DVD and DivX player capabilities, this projector offers a wide range of connections such as component or USB slots for easy access to multimedia content. The EH-DM2 also incorporates a number of convenient features, including auto detection of DVD aspect ratio and disc format, great brightness for even light environments, a slide show function with music straight from a USB key and a self luminous remote control with direct access to main features of both the DVD function and projector. The projector and lamp also come with a three year warranty as standard.

Epson EH-DM2 key features summary:

Instant Home Entertainment centre to view DVD (or Dvix) on giant screen

Real Cinema experience (HD compatible, 16:9 aspect, great picture and sound quality)

Wide choice of connection: PC, USB, discs, TV tuner, digital camera, mp3 player

Compact and stylish black design

The most compact and portable entertainment centre integrating a handle and fashionable soft carrying case (with special pouch for DVD's)

Easy installation: no cable required... except the power cable!

Great brightness (1200lm) for any environment lightening

3 years warranty (including lamp)

<€600 RRP including VAT - Available September 2008

For further information, please contact your local Epson representative. www.epson-europe.com

About the Epson Group

Epson is a global leader in imaging products including printers, 3LCD projectors and small- and medium-sized LCDs. With an innovative and creative culture, Epson is dedicated to exceeding the vision and expectations of customers worldwide with products known for their superior quality, functionality, compactness and energy efficiency.

Epson is a network of 88,925 employees in 109 companies around the world, and is proud of its ongoing contributions to the global environment and to the communities in which it is located. Led by the Japan-based Seiko Epson Corp., the Group had consolidated sales of 1,347 billion yen in fiscal 2007.