Epoq EPP-CEP1 Pico-Projector packs Windows CE 5.0, trackpad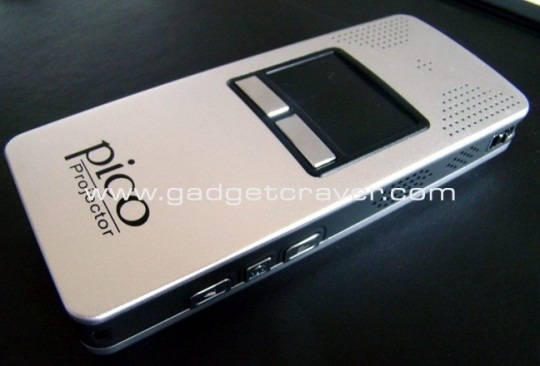 Epoq are back with their next pico-projector, and since it's growing harder to differentiate between these compact, LED-based handhelds they've decided to stuff Windows CE 5.0 inside.  Having a full OS – plus the trackpad on top of the projector – means the Epoq Multimedia EPP-CEP1 can run native Word, PowerPoint, Excel and PDF viewers for standalone presentations, together with Windows Media Player for broader video filetype support.
Inside the EPP-CEP1 uses a Samsung ARM9 400MHz processor, paired with 64MB of RAM and 64MB of flash memory; there's also an SD slot for up to 4GB cards.  The 50-inch picture the CEP1 is capable of throwing (from 180cm away) is accompanied by an integrated mono speaker, but you'll probably want to plug in some headphones or external speakers to the 3.5mm jack instead.  Image quality is the usual low 10 lumens brightness, with 640 x 480 VGA resolution supported.
There's also a USB Host port, meaning you can plug in a keyboard/mouse and control Windows CE that way.  Battery life is estimated at up to 4hrs runtime or 72hrs standby, and the whole thing measures 138.5 x 58.5 x 25 mm and weighs 168g.
We're just disappointed that there's no way to hook up a wireless internet connection, load up Internet Explorer and use the CEP1 as a super-portable web browsing terminal.  It's possible that the USB Host port might recognise a WiFi dongle or ethernet-to-USB adapter, but we wouldn't put down money on it.  Still, arguably far more useful than the standard pico, and at $359.95 it's priced at about the same.
[via I4U]