Entry-level MacBook Pro's SSD can be replaced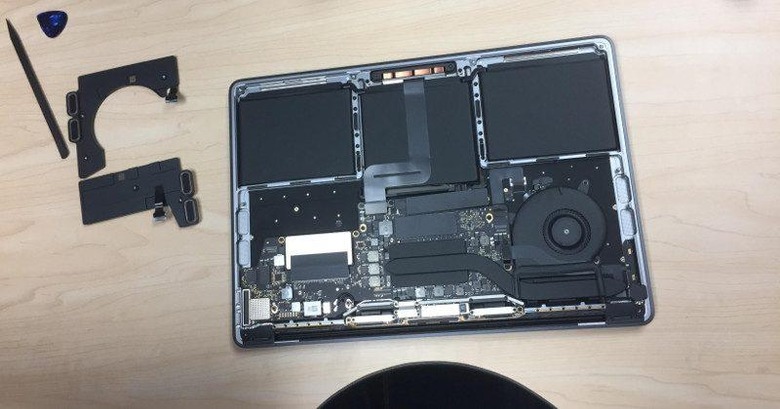 The highlight of Apple's MacBook press event is undoubtedly the laptop's new Touch Bar, and the abundance of Thunderbolt 3/USB-C ports. But not all MacBook Pros are created equal, and there is one model that at the expense of a less expensive price tag, eschews the Touch Bar. This entry-level MacBook Pro, however, might have one more advantage in addition to the larger battery. It might also be possible to more easily upgrade its SSD storage. With a bit of work, of course.
The information comes via OWC, who made an early teardown of the late 2016 entry-level MacBook Pro, to see if there are any hidden gems inside. Fortunately, their investigations yielded quite a bit of fruit.
The $1,499 new MacBook Pro comes with only 256 GB of SSD storage inside. But if you're daring enough, or if you find a shop willing to do it for a price, you can swap that out with a higher capacity SSD. Of course, Apple doesn't advise this action and the internal design of the MacBook Pro offers enough deterrent. According to OWC, the bottom part of the MacBook Pro is now harder to remove and that, to get to that SSD, you have to remove the speaker module first, which only adds to the risk of the endeavor.
OWC also notes how the late 2016 MacBook Pro is hardwired to turn on the moment you open it up, whether you press the power button or not.
Whether the removable SSD and automatic power on features are exclusive to the entry-level MacBook Pro remains to be seen. It is still, however, easily outclassed by its $1,799 sibling, and not just because of the Touch Bar and Touch ID. The more expensive MacBook Pros, in addition to higher specs, have twice the number of Thunderbolt 3 ports. The one handicap both MacBook Pros share is that they're limited to 16 GB of RAM.
SOURCE: OWC