Energizer phone has battery that's 7x that of an iPhone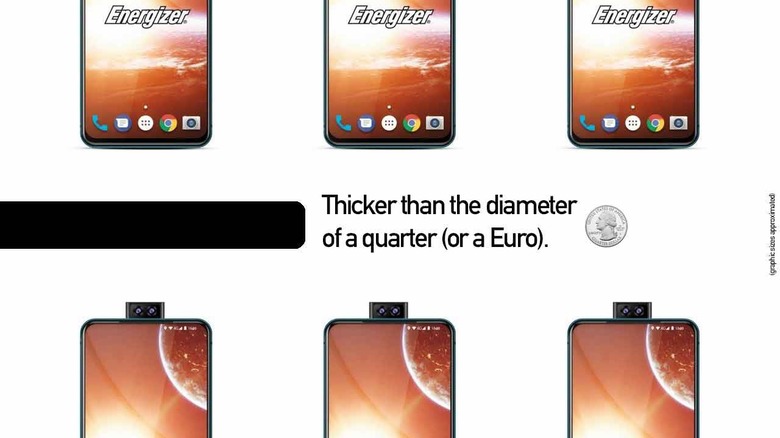 Energizer is a battery-centric company, so it only made sense to go all-out for a smartphone with enough power capacity to choke a mule. This Energizer Power Max P18K Pop isn't the sort of phone that everyone is going to want. It's also not the sort of phone that most people are going to want. In fact I'm not entirely sure there are enough people that want this phone that Energizer should really go ahead with a full production run, to be entirely honest – but we shall see!
There's a reason we don't normally have batteries far larger than the average relatively-thin smartphone. When you add more battery capacity, you literally need more physical space. When you need more physical space, we get closer and closer to the original cellular phone – the Zach Morris, AKA the Motorola DynaTAC. The good news about the massiveness of the new Energizer phone is that most of the space is, indeed, packed with battery.
The capacity of this smartphone from Energizer is approximately 18,000mAh. That's just 613mAh under the mark for being SEVEN TIMES as large as the battery in the iPhone XS. That's the key point to this phone – the rest is just side-notes, especially since it's unlikely this phone will strike a tune with the average smartphone buyer – the smartphone buyer that far more often than not tends to buy a Samsung or Apple phone – but we shall see!
The Energizer Power Max P18K Pop has a 6.2-inch display without front-facing camera. The front-facing camera pops up from the top of the phone – and it may as well, given all the space up there. The front-facing camera array is made up of a 16-megapixel shooter and a 2-megapixel shooter. There's a 3-cam backside array with 12, 5, and 2-megapixels to their name.
Inside is a Mediatek Helio P70 with Android 9.0 Pie and 6GB RAM. There's one version of this phone thus far, with 128GB internal storage. Release date is some time this Summer (UPDATE: June of 2019), and price is thus far unrevealed.
Do you want us to review this beefy monster of a unit phone? Let us know! If there's anything more you'd like to know about this or any other new Energizer phone, we'd be glad to investigate further!