Emtec Movie Cube S800 review
With more people amassing vast collections of digital media, the demand for a straightforward way to pipe that out through an HDTV is only increasing.  Emtec's Movie Cube S800 not only offers video streaming, but expandable local storage, internet radio and dual TV tuners for recording fresh content or pausing live TV.  SlashGear hooked it up to see if our home entertainment prayers had been answered.
In the box there's a mass of cables, although for many the single HDMI lead will be enough.  Nonetheless, Emtec provide a USB (A to B) cable, Y/U/V component cable, composite cable and, in the UK, a SCART adapter.  The USA version of the Movie Cube lacks the analog and DVB-T TV tuners; our UK version also included an aerial splitter, though not the appropriate cable to connect the second output to our test TV.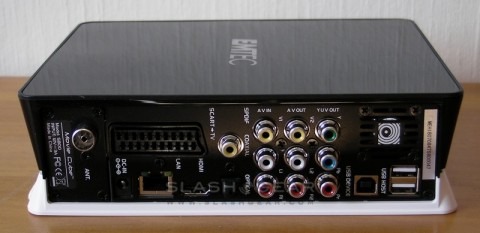 Setup is straightforward: pick a connection (HDMI is easiest, plus it and component support HD resolutions) and plug into the screen, then add power.  The Movie Cube has a small fan at its rear, which as with other fans of its size is not so much loud as high-pitched.  Quiet points in movies or music are when it's most noticeable; you can hide the S800 away in a cupboard or cabinet, but then you lose out on seeing the integrated display.
Saying that, the display is an exercise in frustration.  While it usefully shows tracklists during music playback, theoretically letting you navigate without having your TV switched on, it's so small and the viewing angles so surprisingly narrow that you need to be very close to make use of it.  By the time you're near enough, you wonder why Emtec didn't include on-device controls as well as the remote, especially as navigation can sometimes be sluggish.
European owners will then have to tune in the TV reception, which the S800 automates.  Both a digital and an analog tuner are provided, although only one can be used at any point; there's no facility to simultaneously record with one tuner and watch with the other.  The S800 found the same number of channels as our test TV managed with its own tuners; quality was roughly on a par too.
Finally, there's the networking to be managed.  Both wired and wireless are supported, although the latter requires an optional WiFi dongle (which Emtec included with our review unit).  Emtec throw a third possibility into the mix, for the Movie Cube to show up as a NAS on your network; that way you could download content directly to it, rather than navigate to other drives and PCs through the S800's browser.
We'd have liked to have seen gigabit ethernet and WiFi draft-n offered, but were disappointed on both counts.  The S800 supports 10/100 wired connections and WiFi b/g; that's good enough for most standard definition and 720p content on an uncrowded network, but with other people using the connection we did suffer a few jitters.  The separate WiFi dongle does at least mean Emtec can address that in future with a draft-n version; it'd be good to see them also throw in a short USB extension cable or, better still, a rotating USB plug, as the adapter is left sticking out almost three inches from the back of the S800.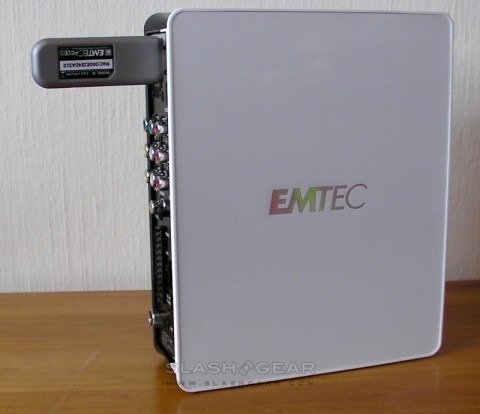 Either fixed or DHCP-assigned IP addresses are supported, and there's automatic search for WiFi connections together with WEP, WPA and WPA2 security.  Any shared folders on networked PCs that you'd like to access with the Movie Cube must be open to Guest access, not password protected.
The S800's GUI is not the most attractive we've ever seen, but nor is it the worst.  From the main menu – which offers digital or analog TV, A/V input through the composite video or stereo audio inputs, playback of recorded shows, a browser to navigate networked or separate drives, the devices own library and internet radio – you can access each of the main sections; setup is loaded by a button on the remote.
Scheduled recording is supported from either tuner.  This is a basic timer system, not tied in with any sort of program guide (for example the OTA Freeview DVB-T guide); instead, you select channel, start time, stop time and quality manually.  The S800 also supports timeshifting, where you can pause live TV and pick it up later; this worked well.
For the US buyer, the only way to watch video on the Movie Cube is pre-recorded content.  That can be stored locally – capacities range from 250GB to 1TB – or on a USB hard-drive hooked up to one of the Emtec's two USB 2.0 host ports.  Anything that will mount as a mass storage device can be connected, in fact, from USB keys to MP3 players to huge RAID arrays, and you can choose to record anything from the TV tuner direct to this drive.  The Browser is used to navigate both attached USB drives or shared network folders, with a simple folder/file structure; anything saved to the S800's internal storage gets a more streamlined interface through the Library option.  You're able to easily copy a file from remote storage to local, or vice-versa; obviously the speed at which this is achieved depends on the network connection.  For initially loading up the S800's storage with video, we plugged it directly into our PC (it shows up as a mass storage device) rather than wait for files to transfer wirelessly.
It's file support, though, that could be the biggest dealbreaker to would-be Movie Cube buyers.  The S800 will play video in VOB, IFO, MPG2/1, MPEG-4 AVI and MPEG-2 TS formats; it will supposedly play Xvid files, but we had mixed, generally negative results trying them.  As for audio, it will handle MP3, OGG and WMA files, but nothing DRM protected, and only JPEG and BMP images are supported.  For some that list will encompass most of their digital media collection, but many others will find it limiting and face re-encoding files or settling for them remaining unwatchable on the S800.  Maximum resolutions of 720p 50/60Hz and 1080i 50/60Hz are supported, though unfortunately no 1080p.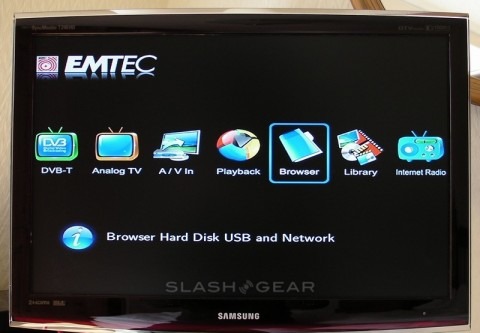 As for internet radio, this pulled in literally thousands of free-to-listen channels in all manner of languages.  You could readily argue that there's in fact too much choice: the sorting options are either by station (e.g. the full list) or by genre, which still leaves many pages to go through.  There's no way to cut through to only the English channels, either, though once you've found a station you like you can add it to a favorites list for next time.  Without some preparation or a knowledge of which stations are out there, you can easily spend more time searching and scrolling than you do actually listening; we've had better luck with standalone internet radios that generally offer more granular categorization.
The Emtec Movie Cube S800 is not a bad device by any means, it simply lacks polish.  The GUI pales compared to not only dedicated Media Center PCs but rival standalone mediaplayers, and the TV recording, though functional, lacks the ease of use and flexibility of standalone DVRs.  It's the codec support that presents the biggest problem, however, with Emtec potentially counting themselves out of the running from the first hurdle for those with incompatible media libraries.  If you're in need of a good-looking NAS for straightforward media playback, the Movie Cube S800 might tick your boxes; just make sure to compare your video collection with its spec list before you buy.