Emerge Technologies pulls the wraps off ReTrack 4-1 Combo Charger for iPhone and other devices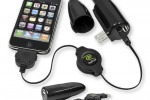 We have been hearing a lot form a little company called Emerge Technologies over the last few weeks. The company debuted a cool universal notebook charger last week that could charge most notebooks and netbooks on the market while it charges two other devices via Built-in USB ports. Today the company has unveiled a new Sync-n-Charge adapter for the iPhone.
The device has a retractable USB cable connected to a charging end that can charge the device via a DC outlet in the car, AC outlet in the home, and USB from a computer. The charger also has a pair of built-in USB ports for charging other devices that need USB to get power.
Models for charging the iPhone, iPod, micro USB devices, the Zune, Sansa, Philips, Archos, and the Nintendo DS are available. The company says that it will soon offer GPS and Bluetooth charging adapters as well. The dual USB ports allow 1.2A of power for your device. The adapters each sell for $24.99 and are available online and at major retailers.