Emerge Technologies unveils ETCHGNBW90 universal 90W notebook charger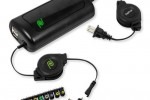 Emerge Technologies has launched a new line of universal notebook chargers with up to 90w of power that are aimed at users not only needing a new charger, but those wanting to charge multiple devices at once. The new charger promises to work with over 7,000 different notebooks.
Both ends of the charger cord are retractable for less mess and clutter when in use and when in your laptop bag. The manufacturer also claims that the device is up to 60% smaller than other competitor's products.
Several tips ship with the charger to make it compatible with more of the notebooks on the market. The most interesting feature of the 90W charger is that it has dual USB ports that allow you to charge your notebook and a mobile phone or PMP at the same time. The charger is available now at major retailers for $99.99.