Embr Wave Review: You own personal thermostat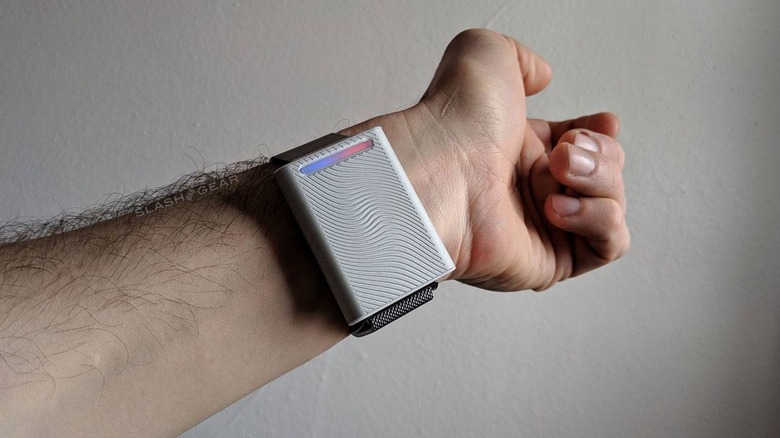 Embr Wave looks like a watch, or an activity monitor – but it's not. It does not have step tracking, and it won't give you notifications from your phone. It can connect to an app on your phone, but for one reason alone. This device can make your wrist warm, or it can make your wrist cold, and that's it. This device will cost you $300 USD.
The original problem
If you've got three hundred dollars burning a hole in your pocket, maybe you'd like instead to have that cash cool down your brain? That's the intent of the Embr Wave. This device is meant to be a personal thermostat.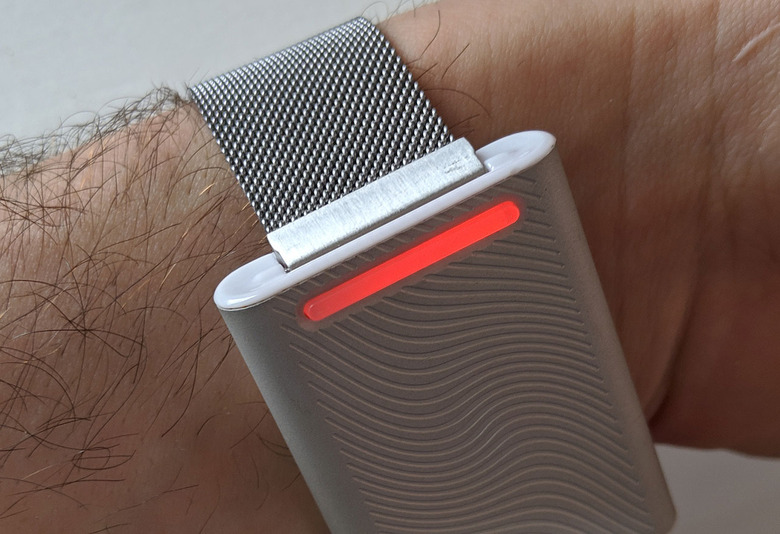 The device was originally part of a student project hatched by Materials Science and Engineering students at MIT back in 2013. They were inspired by a lab that was so cold, they needed to wear sweatshirts to stay comfortable.
In the words of the creators of this device, the problem was as follows: "They realized how little sense it made to air condition a huge lab space to the point where people were cold—especially one that sat empty most of the day." They went on to suggest: "What if we could just heat and cool people directly? Everyone would be comfortable, and we'd use less energy."
*SIDENOTE: If you're interested in why laboratories are more often cold than warm, take a peek at our report on a study called "Warm Hearts and Cool Heads: Uncomfortable Temperature Influences Reliance on Affect in Decision-Making".
The Solution
The solution, they decided, would be targeted heating and cooling. The device that'd make this happen would be a wrist-based heater/cooler called Embr Wave. This device does not change the core temperature of the wearer. Instead, it's meant to "make them feel much more comfortable in uncomfortably hot or cold settings."
So you make sure the device is charged up, and slap it on your wrist. When you find that you're uncomfortably cold or warm, you press the control rocker button to either cool or warm. The device sends a rush of cool or warm thermoelectric energy through an aluminum plate unto your wrist.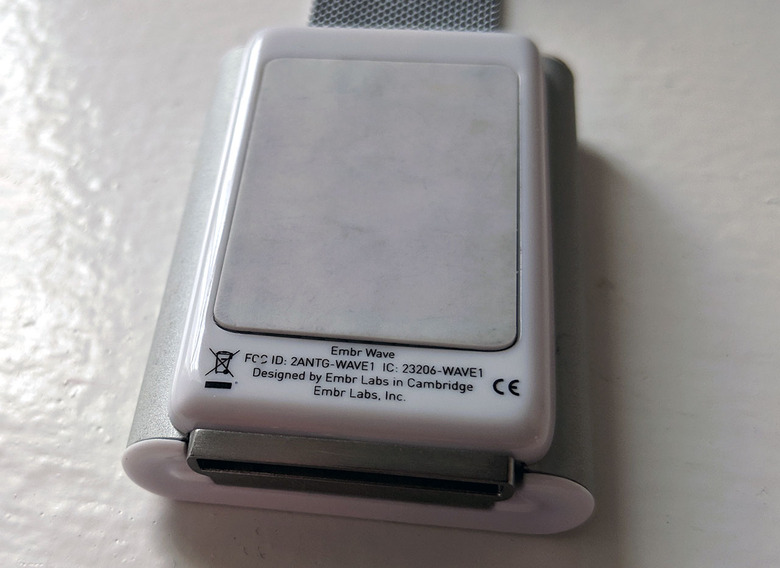 The solution is to make the wearer feel warmer by around 4.5-degrees F, or cooler by 5.8-degrees F, over the course of 3 minutes of heating or cooling. Those quantifications come from "research conducted at the University of California, Berkeley."*
*With National Science Foundation funding and in collaboration with Dr. Hui Zhang, principal researcher at UC Berkeley, the team conducted research on... 23 people. That's from the research paper called "The Effect of a Low-Energy Wearable Thermal Device on Human Comfort" authored by Wang, Zhe & Luo, Maohui & Zhang, Hui & He, Yingdong & Jin, Ling & Arens, Edward & Liu, Shichao. (2018). You can find this paper over at Escholarship dot org right now.
Does it work?
The device works – insofar as it gets cold when you press the cold button, and warm when you press the warm button. There's a set of LED lights in the device that shine blue or red depending on the state of the device. The device has a very nice chainmail strap that makes for a comfortable experience.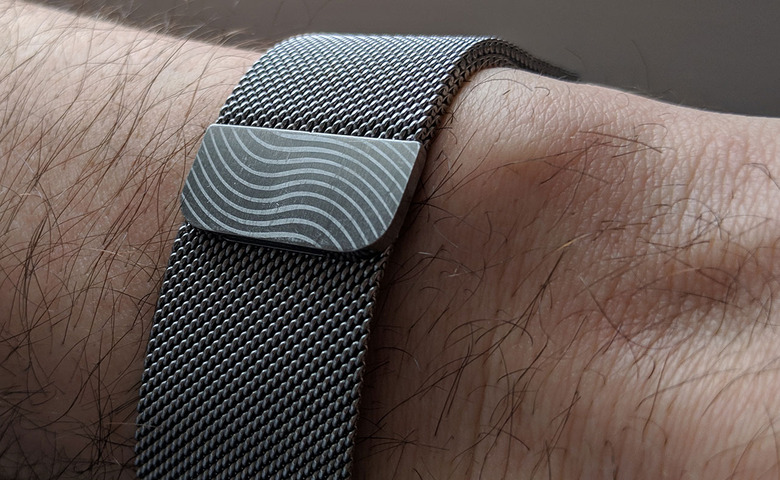 In uncomfortably cold or hot environments, I found that the applied warm or cold energy made me feel a little more comfortable. Once the heat or cold was done affecting my wrist, I once again felt as uncomfortably warm or cool as I did before I pressed the button.
Wrap-up
I don't think you should spend $300 USD for an Embr Wave. Not unless you're a professor at a university or a teacher at a highschool and happen to be teaching a course on relative human comfort with regard to local environment.
The results of the study cited above are exciting. They suggest that, at some point in the future, there'll probably be a viable solution to the problem outlined above. They suggest that the Personal Comfort System (PCS) could, at some point, provide the same (or better) levels of comfort that a high-powered personal fan offers now, but with far lower energy consumption requirements.
But for now, it's an early adopter situation, and you should probably save your cash. But keep your eyes on the folks at Embr – they're on the forefront of this PCS space for real.