Emblaze First ELSE struts new UI in video demo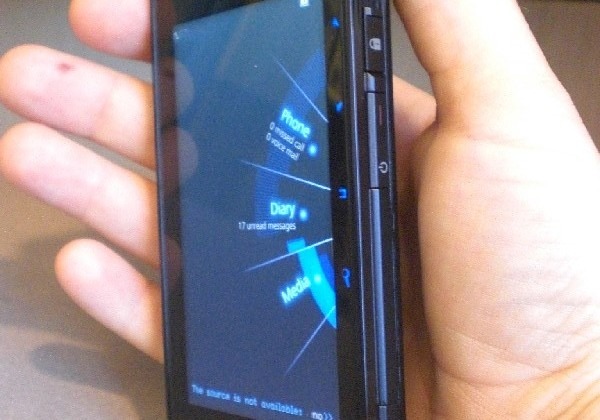 Still curious about the First ELSE smartphone and its nifty user-interface?  Various videos of the handset in action have emerged, including a five minute UI demo from the ELSE's launch in London this week.  The handset is based on the Access Linux Platform 3.0, onto the open-source underpinnings of which designers Emblaze Mobile built the sPlay menu system, which is intended to be navigated via the right-hand thumb.
Rather than digging through numerous menus and pop-up boxes, sPlay aims to keep a consistent UI throughout the ELSE handset.  We touched upon its more headline-grabbing functionality yesterday – the phone will record voice calls and store them along with records of when the call was made, and there are GPS-linked contextual reminders which flag up alerts whenever you're near a preset position, for instance a shopping list while you're near a supermarket – but Emblaze are planning an app store and building up to an SDK release for more functionality.
Video demos after the cut
Hardware, meanwhile, centers around a 3.5-inch capacitive touchscreen running at DROID-like 854 x 480 resolution, above which runs a row of OLED status indicators.  The CPU is Texas Instruments' OMAP 3430 chip, as you'll find in the iPhone 3GS, and there's a 5-megapixel camera around the back.  Connectivity includes WiFi, Bluetooth and HSDPA.
It remains to be seen whether the ELSE can get to market and pick up sufficient user-share, or whether third-party developers really will jump on board (and maintain that clever UI).  There's no announced release date as yet, nor pricing details.
Update: It seems someone ripped Engadget's video demo of the ELSE and posted it to YouTube anonymously; we've replaced that version with their official video, below.
First ELSE teaser video:
[vms 5517597ce0a4d89620f5]
First ELSE UI walkthrough:
Press Release:
Tokyo, Japan, October 22, 2009 — ACCESS CO., LTD., a global provider of advanced software technologies to the mobile and beyond-PC markets, and Emblaze Mobile Ltd., a technology design house for cutting-edge mobile devices, today unveiled ELSE INTUITION™, a groundbreaking mobile platform jointly developed by ACCESS and Emblaze Mobile.

ELSE INTUITION™ combines ACCESS Linux Platform™ v3.0, ACCESS' flagship mobile Linux® platform, with a state-of-the art user experience, innovative user interface and a suite of services provided by Emblaze Mobile. In addition, the two companies previewed the first ELSE™, the first mobile device based on the ELSE INTUITION™ platform, jointly developed by ACCESS and Emblaze Mobile.

ELSE INTUITION™: A Revolutionary User Experience

ELSE INTUITION™ is a complete mobile platform developed by ACCESS and Emblaze Mobile. Thanks to the combination of ACCESS Linux Platform v3.0 and an advanced user interface engine, jointly developed by Emblaze Mobile and ACCESS, ELSE INTUITION™ delivers a highly compelling and differentiated user experience, coupled with state-of-the-art hardware, accelerated 2D/3D graphics and elegant transition effects. ELSE INTUITION™ takes advantage of ACCESS Linux Platform v3.0 to provide advanced flexibility and configurability, enabling users to run multiple applications simultaneously, switching between them with ease. All data and content, including contacts, appointments, videos and photos can be rendered anywhere, not just within a single dedicated application, giving users faster, easier and more consistent access to their information.

ELSE: A New Category of Mobile Device

The first ELSE™, the first mobile device deploying the ELSE INTUITION™ platform, presents an entirely new category of mobile device that allows for a complete, fully-functional user experience. The device actually becomes the application, providing functionality that for the first time is able to match that of standalone off-the-shelf dedicated devices, such as digital cameras, top-ranked MP3 players, best-in-class GPS devices, and more, while maintaining an exceptional ease and simplicity of use.

The first ELSE™ is being previewed at ACCESS Day, ACCESS' annual ecosystem and partner event in Tokyo, Japan on October 22, 2009. The companies have already been actively promoting the first ELSE™ to top-tier mobile operators worldwide, and operator evaluations are currently underway. The complete global unveiling of the ELSE INTUITION™ platform and the first ELSE™ device will be announced separately.

Amir Kupervas, CEO, Emblaze Mobile, said, "Our vision is to create a revolutionary mobile solution that will change users' experience in the mobile arena. Imagine a device that is not a phone surrounded by gimmicks you will not use; where the camera literally replaces your digital camera; you get real-time push email wherever you are on the globe; almost every song and film in the world is one click away; and any one of its multitude of features is reached with no more than one light gesture of your finger and not buried deep inside folders within folders. If you imagine this, you imagine the first ELSE™ and the capabilities created with ELSE INTUITION™. And yes – it is definitely something ELSE. Our relationship with ACCESS and the privilege to leverage ACCESS Linux Platform has allowed us to fulfill our vision and bring it to fruition."

Tomihisa Kamada, president, co-CEO and co-founder of ACCESS, said, "Our goal of providing a complete solution for enabling the creation of advanced mobile devices aligned well with this innovative vision from Emblaze Mobile. ELSE INTUITION™ provides a perfect showcase for the flexibility and customizability of ACCESS Linux Platform. It underscores our ability to tailor and adapt our technology to suit our clients' requirements and to work directly with our clients to achieve their goals. Emblaze Mobile came to us with a thought-provoking concept to shake up the mobile industry, and I am delighted that ACCESS has been able to provide the software to make it happen."

ACCESS Linux Platform

The first ELSE™ and ELSE INTUITION™ are powered by ACCESS Linux Platform v3.0, which is compliant with LiMo Foundation specifications and employs ACCESS' world-leading NetFront™ Browser. The ACCESS Linux Platform v3.0 Advanced UI Engine enables development of state-of-the-art user interfaces with advanced graphical effects, and allows complete modification of applications' "look and feel" without requiring changes to the applications' code. The ACCESS Linux Platform v3.0 Advanced UI Engine also supports full hardware graphics acceleration via OpenGL® ES 2.0. The ACCESS Linux Platform v3.0 application suite and complete set of middleware enable the unique advanced services now made available by ELSE INTUITION™.

About ACCESS

ACCESS CO., LTD. is a global company providing leading technology, software products and platforms for Web browsing, mobile phones, wireless handhelds and other networked devices. ACCESS' product portfolio, including its NetFront™ Browser, ACCESS Linux Platform™ and Garnet™ OS, provides customers with solutions that enable faster time to market, flexibility and customizability. The company, headquartered in Tokyo, Japan, operates subsidiaries and affiliates in Asia, Europe and the United States. ACCESS is listed on the Tokyo Stock Exchange Mothers' Index under the number 4813. For more information about ACCESS, please visit www.access-company.com.

About Emblaze Mobile

Emblaze Mobile Ltd. is a technology design house for cutting-edge mobile handsets. Founded in 2001 and headquartered In Israel, Emblaze Mobile develops next generation innovative cellular devices, utilizing state of the art Israeli technology and cooperating with global wireless players for manufacturing and global distribution. Emblaze Mobile is a wholly owned subsidiary of the Emblaze Ltd., a group of technology companies, publicly traded on the London Stock Exchange (LSE: BLZ) since 1996.