EM Mobile unveil HSDPA WM5 handheld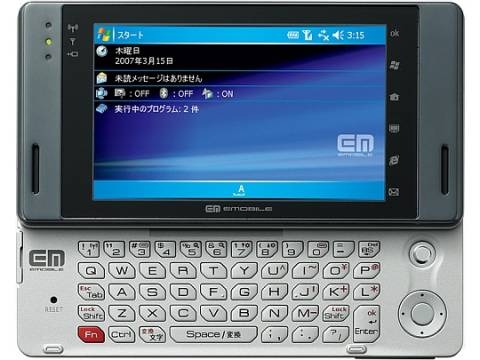 After the swoopy sleekness of the Nalu concept, this EM Mobile UMPC designed by Sharp for the Japanese market looks dolefully retro.  Called the EM ONE, it will be sold by the carrier as an always-connected HSDPA device, but does away with anything so traditional as voice calling.  Instead, you can enjoy yourself with the 4.1-inch, 800x480 screen, b and g flavour WiFi when coverage proves lacking, and Bluetooth 1.2, tapping away on the slide-out keyboard or, if words are still too traditional, sliding the unit sideways to access just the D-pad and joystick.
Strangely it relies on Windows Mobile 5, not 6, and the camera is a paltry 1.3-megapixels (paltry by Japanese cellphone standards, certainly).  A 520MHz PXA CPU together with NVidia's GoForceTM5500 chipset lend some meat to the performance, and although the 4-hour battery life is good when compared to proper UMPCs (e.g. those running the full Windows OS) it's not great for a WM5 device.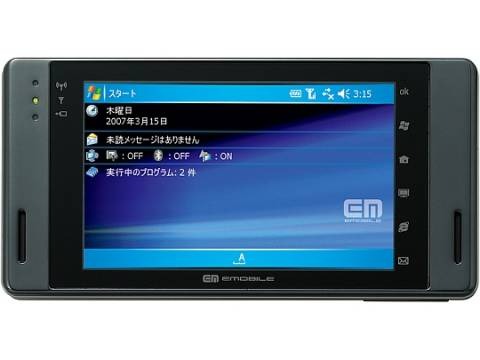 Other confusions include the need for a joystick when the display is a touchscreen, and the lacklustre internal memory when compared to something like the HTC Ameo - the EM ONE has 512MB of flash and 128MB of SDRAM, expandable by miniSD but nowhere near the Ameo's diddy hard-drive.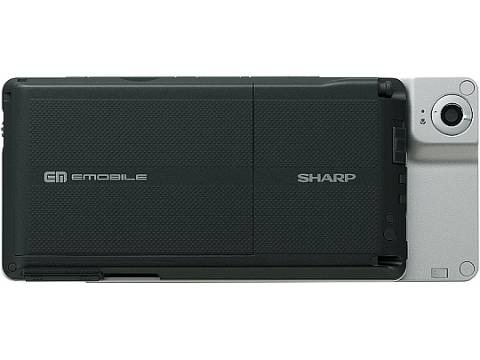 Still, one area where the Ameo is bested is the EM ONE's 1-Seg Mobile TV tuner, which makes the most of the widescreen and built-in stereo speakers.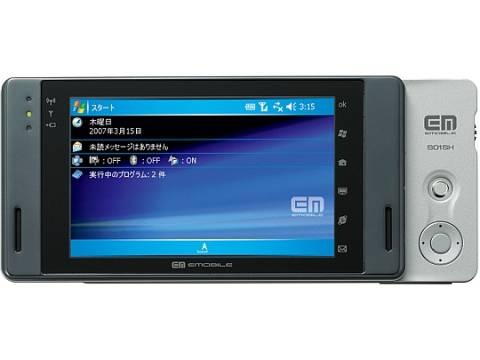 The EM ONE will be on-sale in Japan at the end of March, at ¥95,000 ($797) without contract or ¥39,800 ($332) if you're willing to sign up for two years.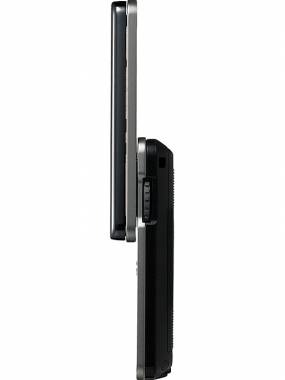 Emobile [via Engadget and Akihabara News]