Elitegroup ECS Morph-A: distinctive Full HD all-in-one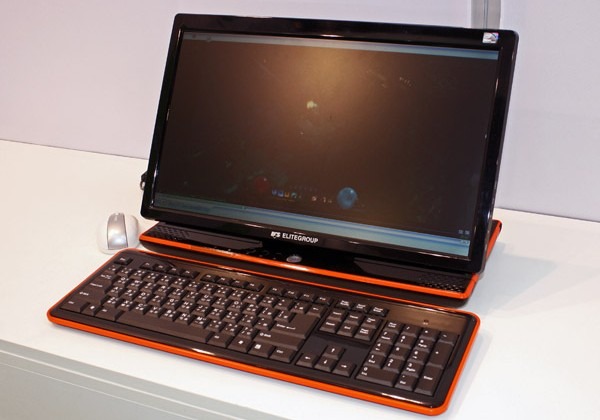 You can't really argue with the fact that a nettop – especially an all-in-one – is basically a deskbound netbook with a bigger screen, and Elitegroup obviously couldn't even be bothered combining the ECS Morph-A's display and base section into a single chunk.  Still, they've obviously been busy with the orange go-faster stripes, perhaps a little incongruous given the Intel Atom D410 or D510 processors actually powering the machine.
There's also up to 4GB of DDR3 memory and whatever storage you can squeeze into a 2.5-inch HDD bay.  Happily Elitegroup have also squeezed in a DVD burner, so you can use the 21.5-inch Full HD 1080p display for media playback, though owners will probably want to plug in external speakers to the 5.1 surround sound connections, rather than rely on the stereo 2W integrated cones.
Otherwise there's gigabit ethernet, six USB 2.0 ports, a 5-in-1 card reader, audio in/out and a slot for either a WiFi card or an optional 3G/WiMAX modem.  No word on pricing or availability as yet, nor if Elitegroup will be offering a touchscreen option, but we suppose it's slightly more distinctive – though with a bigger desk footprint too – than some of the other all-in-ones we've seen recently.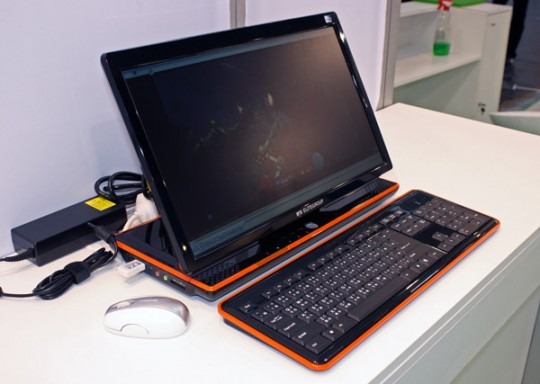 [via Notebook Italia]